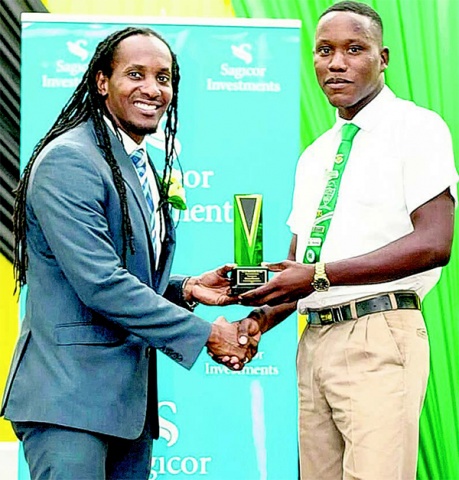 Rashi Pearce accepts the Youth Minister's Award for Leadership from State Minister Alando Terrelonge.
He describes the art of giving as a passion for him. Eighteen-year- old Rashi Pearce, the incoming head boy at Frome Technical High School in Westmoreland, wants to be more than just an ordinary youngster. Consequently, in December 2018 when he launched the Rashi & Friends Foundation, he achieved just that – going above the ordinary and using the loaf of bread he had to multiply into greater things.
"I was motivated by my brother, Ikula Pearce, who is the youth member of parliament for Western Westmoreland," he told Youthlink. The older Pearce has a foundation that gives grants to students entering high school.
Rashi pinpointed hospitals and basic schools as his target, starting with the Savanna-la-Mar Hospital.
With a team of prefects, we organised a small group. We went around and told the students at my school about it, and they gave donations which helped us to buy some gifts and toiletries to bring to the hospital," he detailed.
The day's activities saw the team reading books for patients, singing to them and "telling them about Jesus". For its second project, Rashi & Friends assisted a fellow student at Frome Technical who was organising the repainting of Frome Basic School.
"We gave her the entire day of repainting that school," he said. "I actually donated a fan myself."
'I KNOW I CAN HELP OTHERS'
Some of the simple abilities that able-bodied humans possess, like the ability to breathe and move around freely, are often taken for granted, but not by Rashi.
"Giving is always my passion and I know I can help others," he said. "If I am not helping, I don't really feel good in myself."
According to him, "I am given the opportunity to live, to have breath, to walk up and down; I am free; so persons that are not free, in any way that I could help them, I try my best to do so."
He mentioned another project in which he joined with his brother some time in Easter to purchase treats, water and juices for those persons in his community who are neglected and otherwise not attended to by the authorities or relatives.
CHALLENGES FACED
Like everything else in life, outreach comes with its challenges. Some of those for Rashi has been soliciting volunteers. Last December, when he was told to take only 15 students to the hospital and began scouting for that number within his network, only eight volunteers of the confirmed 15 actually showed up on the day of the visit.
"Luckily, my brother, who was at work, came over in his lunchtime and he gave a hand," said Rashi. "I still welcome persons who are willing to give back. I will carry them on my team, and I will tell them about it if they are willing to do so," he added, noting that there are noweight persons confirmed as members of his executive/ planning committee.
He is also open to going wherever the outreach is, declaring that his foundation will not be limited to just one target group.
MAN UP
Adding his voice to the conversation on the role of young men in today's society, Rashi was eager to give his two cents, with a simple message to young boys – "Man up!"
"If we man up as we are expected to, we will not need persons to tell us what is right from what is wrong," he said. "A man is expected to be the breadwinner in the household and the protector and the nurturer, and if we just man up, we will see that helping others pays more than even the work some persons do."
Rashi, awarded this year by the Jamaica Prefects' Association for his initiative, as well as being the recipient of the Youth Minister's Award, considers himself fortunate to have been raised by a father who was a positive male role model in his life. He describes him as one who assists persons in the community whenever he can, activating his own loaf of bread.
Rashi is aware that others may not be as disposed to this spirit of outreach as he is, but notes that self-motivation and picking one's battles – and, therefore, victories – are essential.
"Choose the right," he said."Even the thief on the street has challenges to steal, so we must pick our hardships," he continued.
What's next for Rashi? The teen on a mission is looking to revisit the Savanna-la-Mar Hospital this December, as well as expand his foundation's projects and the foundation itself to include more members. He completed an internship at the Ministry of Education in Kingstonthis past summer as part of receiving the Youth Minister's Award in July.
Beyond these immediate engagements, the youngster is still contemplating just where he'll end up in life and his career path. "I love tourism and I love marketing," he said, "but, most of all I love giving back and I love helping others, so we'll see."