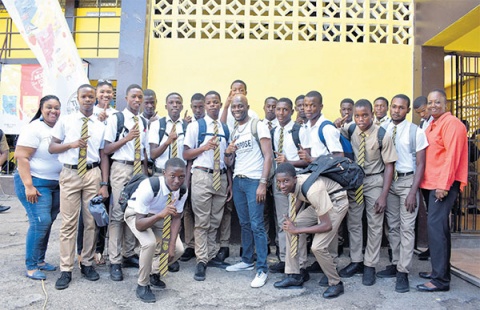 If one could believe that the mystery of the existence of human beings lies not just in staying alive, but in finding a reason to be here and what to live for, then one has the same mindset as Rondell Positive. On September 20, 2019, Rondell Positive Music went to Charlie Smith High School to launch its third staging of the 'Open to Purpose' devotional school tour. This tour was launched for a number of reasons, but the main purpose is to assist the next generation in finding its purpose through Christ.
The entire event captured the crux of the theme and was very inspirational. The morning's devotional programme began with a powerful prayer by Micheal Taylor and, through this, symbolised the importance of God, as purpose comes through God. This was followed by the national anthem and a number of songs, including I am a Promise.
After the song selections, gospel artiste Romaine Clarke performed a song called Release the Struggle. This song was evidently one of the performances that the students loved, as they were very attentive. The song speaks about God being the source who will fix all the troubles and struggles that people face in life, but no matter the struggle, release it and let God handle it.
A section of the chorus emphasises,"You can live without dying. You can smile without crying. Release the struggle." This is significant in showing that a lot of people, especially teenagers, live their lives without being truly happy and accepting of their true selves—or even finding their true selves. It also ties into the theme of finding their purpose, because only when the students find their purpose will they be able to 'release the struggle'. When asked about his favourite line, Romaine stated that it must be 'release the struggle'.
"That is my favourite line because that's literally what I want people to do. Release the struggle," he reiterated. Romaine's performance was followed by a small giveaway session during which bags of goodies were given to students.
Along with Romaine Clarke, brand  ambassador for the 'Open To Purpose' devotion school tour, Dunamis Reignz also performed a gospel item called Come Against. This, too, was well received by the students, who loved the upbeat, dancehall-style, energetic, gospel performance. This song speaks about finding peace within oneself and breaking away from all manner of evil and hate. This, of course, will be done through finding purpose and accepting God. He later gave a speech about his life experiences, and this was very inspirational to the students, as he spoke about growing up in a poverty-stricken home, which later drove him into a life of violence. After a time full of hate and crime, God saved him at the age of 21 and now he designs clothing, and is also a minister. He ended his speech by declaring, "All the negative they talk about you, you will rise above with Jesus. Everyone has greatness sitting inside them."
Following this performance, Mrs Nastassia Wright gave a very heart-wrenching speech that made a lot of students wonder how she still manages to be strong and at peace.
"By my 17th birthday I had lost my dad, my favourite person in this world and my rock; he died from gun violence, and my mom died from an asthma attack. I was lost! The following year, my grandmother died from cancer. In my mind, life was certainly not worth much. I had seen so much poverty and sadness; I figured my life would become the same, another statistic, but today I defied the odds and I am an international author of three books, and I have been travelling the world and speaking to many people at forums," she stated. Her talk reinforced the essence of the theme, as it showed how powerful finding one's purpose is.
To close off the morning's event, Rondell Positive gave a speech as well as performed the singles Purpose a Call Me and Keeping Me Alive. The students loved his performance. His speech followed, and its main aim was to open the students' eyes to their endless possibilities through finding their purpose and Christ. He spoke about people "hugging up" things because they don't know their possibilities.
After his performance, Youthlink had the opportunity to speak with Rondell and he stated, "I recognise the challenges that schools face, because, growing up, I didn't understand who I was, so it was expressed through disorder. So, coming to understand Rondell Positive, I realised there was a 'greater' in every person."
Rounding out the morning event was a vote of thanks and more giveaways by the tour's sponsors, Grace Food Drinks, Catherine's Peak spring water, Always, Frito-Lay, Victoria Mutual Foundation, OTP (Open To Purpose) and RPM (Rondell Positive Music). This tour runs from September 16, to October 4.