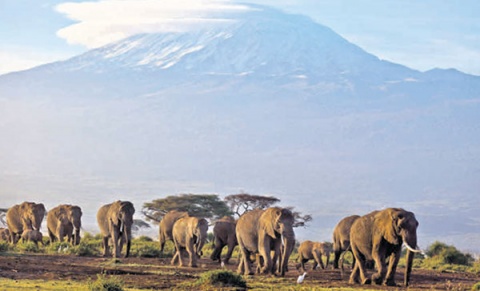 The highest mountain in Africa, Mount Kilimanjaro
1. LANDMASS: There are 54 countries in Africa — and nine territories -with more than 1.1 billion people living on the continent. This is 15% of the world's total population.
2. Largest country: Algeria covers a the greatest portion of the continent's landmass.
3. Largest city: Lagos, in Nigeria, with more than 21 million inhabitants, is also one of the six biggest metropolitan cities in the world.
4. Largest island: Madagascar, in the Indian Ocean, is the fourth-largest island in the world (after Greenland, New Guinea and Borneo).
5. Longest river: The Nile has two sources —the White Nile, coming from Lake Victoria in Tanzania, and the Blue Nile, coming from Lake Tana in Ethiopia
6. Highest mountain: Mount Kilimanjaro is in Tanzania. The highest peak of the mountain, Kibo Peak, also called Uhuru Peak, is located in the Tanzanian highlands.
7. Driest place: The Sahara in northern Africa is the largest hot desert in the world. The climate is extremely dry in this region.
8. People of Africa: There are 8 more than 3,000 different groups of indigenous people living in Africa.
9. Languages in Africa: It is estimated that about 2,000 different languages are spoken on the African continent! Many Africans speak several African languages and also often a European language
10. There are 16 landlocked countries in Africa. These countries are all located in the interior of the continent and have neither access to the Atlantic Ocean nor to the Indian Ocean. Two of these, the tiny countries of Swaziland and Lesotho, are located within South Africa.