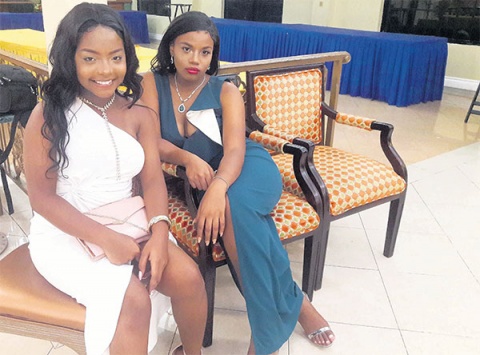 PHOTOS BY ORLANDO PRINC harrifa Jones (left) and Kyann se taking break to pose for so photos.
In the spirit of youth and growth, the recent graduates of St Hugh's High School showed up to their annual graduation ball in a celebratory mood. The young ladies who gathered at The Knutsford Court Hotel on June 19 to celebrate their bitter-sweet high-school departure embodied beauty and elegance. They were joined by a few of their male counterparts from Kingston College and Calabar.
As the graduates assembled to dine, they were regaled with a few short stories and lessons from guest speaker Sean Williams, director of Whole Life Sports. A past student of Kingston College, Williams' brief presentation focused on motivating the youth seated around the dining hall. "You have to know why you are here. Every person has a purpose. You are an answer to a question the world is asking, you have a vision." He closed his speech with encouragement for the young adults to persevere despite life's inevitable setbacks.
After some substantial motivation, graduates moved on to the dining portion of the evening. Preparation for the event's highlight, the naming of Prom Queen and King, were made as students were nominated and votes were submitted. The stunning Colleen Samuels emerged asProm Queen alongside the evening's Prom King, Kadain Corint from Calabar High School. They were both surprised but elated by their win.
"l didn't know that I would be the Prom Queen tonight —thanks to all my friends and my supporters. I feel really glad," Colleen Samuels told Youthlink. The newly crowned queen felt the ball was an appropriate closing to her five years of high school. "I think all schools should [host a ball], because everyone wants to enjoy their time after so many years of being at this high school; [it allows students to] feel good about themselves after they've come such a long way, and now they can just live in the moment." When asked what she expected from the rest of the night, Samuels admitted that she fully intended to live in the moment. "Memories. Just making good memories with my friends."
Similarly, Kadain Corint, landslide winner of the Prom King title, expressed his appreciation for the vibrancy of the event which, appropriately, marked the end of his time at Calabar. As an invitee from an outside school, Corint was surprised at winning the title of Prom King at St Hugh's ball.
"I have a lot of St Hugh's friends, so I guess it was because of that, and one of my friends really went around and rallied people, so that was basically why." The Calabar graduate was more than happy with the results. "It feels good because out of all the boys in there, most of them are KC and I only know one other Calabar person in there, so it feels good to know that I am the Calabar person there and over the majority of KC persons, I still got it."
After the crowning of the night's elected royalty, the former students took to the dance floor, throwing the event into full swing. The party continued into the midnight hour, as scheduled, while the past students were allowed to dance their hearts out, fully experiencing some of the final joys of high school. The evening was marked by music, dance, laughter, photographs and, of course, memories.