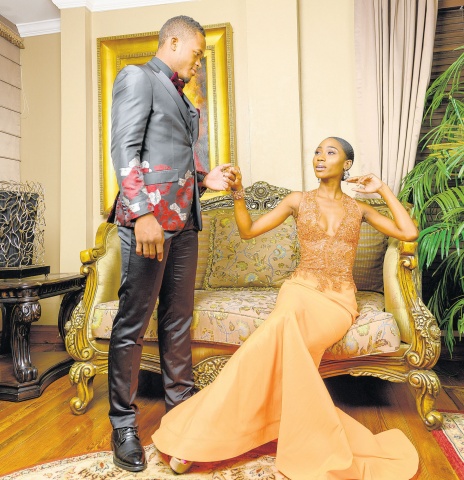 Our prom king's tuxedo is classic even with the floral accents on the tail-end of the jacket and the sleeves. No further questions; the fashion-forward feel of this slim fit suit will certainly have his date happy that he chose her to accompany him to prom.
Robert Johnson Photographer
The season of prom is a special time for all adolescents leaving high school. It is always the climax following what feels like the longest term of the school year. Although females are generally at the centre of attention for the occasion, the males who take the time out to get suited (the right way) for prom are always able to steal that attention. Are you ready to be the king of the ball or named as the well-groomed 'genna' of the year? Here are five tips for #promshoppe2019 that will definitely have the entire school turning their heads in your direction on that special night.
1. First and foremost, ask the big question (no, we are not talking about popping the 'Please, may I take you to prom' question to that special girl that you want to take as a date). The question that needs to be asked is, what look do I want to go for? It is important to find a colour that suits you best and would be appropriate for the prom. Top colours for the season are burgundy, forest green, navy blue, plum, burnt orange, grey, and black is always a classic pick, while a little floral or jacquard print on a tuxedo gives it the royal edge.
2. To coordinate or just date? After a date has been chosen, there is always the stress of choosing whether to match or simply to mix it up. It has become cliché to coordinate the tuxedo or shirt to the dress, but it is still a sweet gesture. The #youthlinkprom advice is, just keep it simple – make it a date you both will never forget. There is always a way to coordinate by doing one of the following; (a) matching the tie or bow which is at the centre to her dress colour – that can be the small essential item that goes a long way. And (b) having a jacket accentuated with her dress colour or with a print that coordinates well with what she is wearing – from the lapel, inner tuxedo lining, buttons, pocket flap, or chest pocket – there are so many areas to play mix and match with.
3. Getting it together. Sometimes we all need a little reminder that there's no need to be running all over the town to get one look together. Remember, the shoes makes the man … it's not wrong to start from bottom to top. Also when choosing the shoe for the tuxedo, don't be a hypocrite about what you love, what you like, and what you really would not be caught walking dead in. Black, brown, and even some have pulled off the Converse sneakers – just make sure it fits in with everything selected for the outfit.
4. Go all out! This statement can be interpreted in so many ways, but let's make it clear that we are not encouraging you to be extra, however, the attitude of the man must also match the tuxedo he wears. Stand tall, hold your head high (but not too high that people think you are egotistic), and strut what your mama gave you!
5. Make prom memorable. You may wondering how this is done, since we don't have any control over what the universe gives a person. Whether you have a date or you are flying solo, there is one thing you must always do: have fun with the occasion. Avoid any mishaps, check that all the pieces of your suit are secure (no loose threads), the shoe fits comfortably that you can not only dance, but walk for hours, and take photographs before, during, and after.