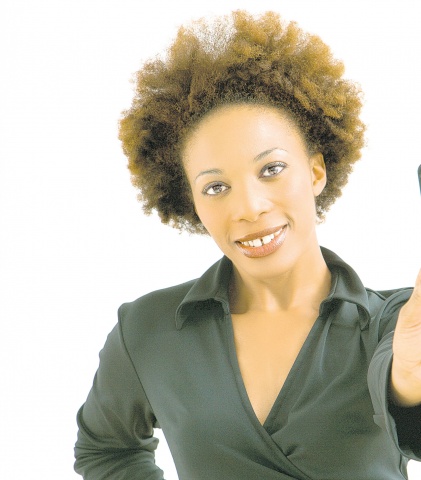 THE IMAGE taken on the cover of our May 7, 2019 issue was taken on June 16, 2006, and represents the last time we did a graduation ball photoshoot with designers Uzuri, who are now making graduation dresses again. One of the models in the photograph is Pattian Lothian, a former Youthlink writer who, sadly, passed away in 2010. Pattian's mother has indicated that the use of the image helps her daughter's memory live on.
In light of the recent 'natural hair movement', many Jamaican women are opting to skip the relaxers and heat styling in favour of their naturally growing kinks and curls. Yendi Phillipps, Terri-Karelle Reid and Davina Bennett are a few of the well-known faces representing Jamaican women who just can't get enough of their kink.
While some decide to part with damaged ends all at once with a 'big chop', others have chosen the more passive route, transitioning: the process by which the natural roots are allowed to grow out underneath the relaxed or heat-damaged ends.
What do you do with your transitioning hair and how do you treat it? The problem isn't the transitioning hair itself, but how to treat the hair as it transitions. How do you blend the two textures (processed and natural) without your hair looking unkempt?
Here are seven tips to consider when treating the transitioning hair:
1 Moisturise hair daily with a lightweight moisturiser.
2 Deep condition it once a month: this is essential in retaining length.
3 Detangle your hair while it is wet and slippery with conditioner, using a wide-tooth comb or paddle brush. Begin detangling at the ends first.
4 Use curl-defining creams when styling wet hair and curl revitalising spray to refresh dry hair.
5 Always let your hair air-dry or use a blow-dryer on cool, keeping the heat exposure to a minimum; this prevents damage and further shrinkage caused by heat.
6 Ensure that you use heat protectant if applying heat to your hair during treatment; for example, blow-drying or steaming below a hairdryer.
7 Be very gentle with the transitioning hair! The line of separation (between natural and transitioning hair) is the hair's weakest point, making your hair extremely prone to breakage.
Now, armed with this knowledge of treating transitioning hair, come back next week to see a list of hairstyles that you can rock when journeying through the transitioning phase. Till then, you may go forth and flourish! May your 'fro grow, queens!
Written by Catherine Lloyd, student of Campion College. Edited by Kaeonna Walters. This post appears courtesy of the Do Good Jamaica Professional Pathways high-school internship programme.