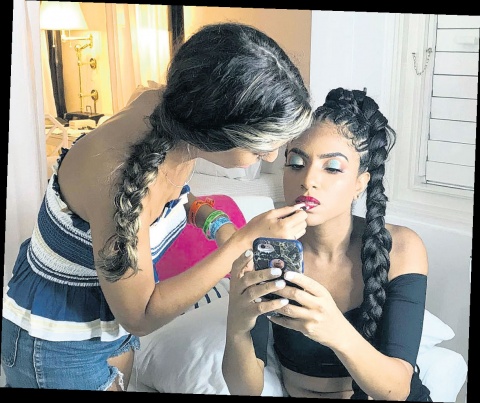 Rebecca Mahfood (left): "Make-up on Naomi Cowan for her first Reggae Sumfest performance. She's the first artiste I've done make-up on and it was so cool to see her on stage killing it, while wearing make-up by me. She also used me for her 'Paradise Plum' music video, which was such a cool experience."
In A world that has always been able to appreciate aesthetic value, make-up and design have unsurprisingly proven to be popular industries. Especially in our social media age, with the likes of Fenty Beauty impressively demonstrating the reach of marketing strategies over social platforms, many young people are taking advantage of the concomitance of social media, beauty and artistic creativity. Nineteen-yearold Rebecca Mahfood is one such person.
Mahfood is a young artist practising professional creativity in make-up art and design. She has designed costumes for the Xaymaca International carnival brand for two years in a row. She spoke of meeting with the Xaymaca director, Kandi King, whom she greatly admires, and showing some of her work.
"I had asked her to meet up for lunch, just so I could talk to her about what she does in the industry and get advice from her. I had mentioned that I had done some designs and she told me to show them to her, and I did. She loved them and the team loved them, so they decided to use one for 2018 Carnival and I was lucky enough to be able to design for them again for 2019 Carnival," said Mahfood.
In terms of make-up, the young artist does what she would describe as 'glamorous make-up for any occasion', including bridal events, birthdays and other special outings. She also loves to do special effects and carnival make  up.
DEVELOPING THE INTERESTS
As one might easily assume, Rebecca's artistic path did not all start with creating designs for popular brands. She describes the nascent stages of her creativity as starting from home and becoming more serious in school: "I think I just had a lot of creativity from an early age, so when I got the chance to do art in school I really discovered my passion for it. One year in school, for one of my projects, I drew a carnival costume and that's when I kind of discovered 'hey, I kind of like this'." The particular interest in make-up started a little differently: "One summer I did not have a job for that summer, I usually have a job every summer, and I didn't have a job that summer, so I kind of just stayed home and watched YouTube videos all day. They were make-up videos, and I wanted to try it on myself because I really liked the idea of it and so I would practise on myself and friends, and that's how I found out that it's something that I really enjoy."
Inspiration: "It's a whole bunch of things, I wouldn't say it's just one thing".
When Youthlink brought up the topic of inspiration, the young designer and make-up artist made sure to note that her inspiration comes from a plethora of individuals, all of whom she deeply admires: "I kind of get inspired by everything I see, I'm so inspired by so many Jamaican designers. Social media is such a great thing because I'm constantly exposed to all these different make-up looks from famous make-up artists, like Kim Kardashian's make-up artist, and all these different celebrity make-up artists. And, then, also designers – Jamaican designers and Trinidad designers – I kind of pull inspiration from everything around me and it kind of just comes up in my head, and that's that."
Internationally, she looks up to Mario Dedivanovic (Kim Kardashian' make-up artist), make-up by Samuel (Instagram/YouTube) and make-up by Ariel (Instagram/ YouTube). Locally, she mentions names like Sue Gregg (suethemakeupgirl on IG), Rasine Hamilton ('Beats by Chic' – bridal make-up), and Kimberly Patterson, as well as other friends and acquaintances in the industry: "I'm friends with so many local make-up artists and I look up to all of them. All of them create such flawless and beautiful work."
Design-wise, she mentions names like Simone Mitchell and Jae Jolly; however, Mahfood cites Trinidadian designer Shawn Dhanraj as her number one in terms of carnival designs: "I just think everything he creates is absolutely amazing and stunning, and I hope that one day my designs will be as amazing as his."
CHALLENGES IN THE PURSUIT
Make no mistake, the beauty and creativity displayed through make-up and design do not come without immense work as well as quite a few challenges. Some challenges that this young artist has faced have come in the form of limited time and access to resources, being a university student. She has also faced scepticism from other industry players. "I'd say the biggest challenges I've faced are maybe people not taking me seriously enough because of my age, as well as the amount of time that I've been in the industry. I have only been in the design and make-up industry for about two years, which isn't that long compared to most other people. But I am really determined to prove to people that I am good enough and I work really hard, so, hopefully, people see that."
For anyone who may be pursuing a similar path and facing similar challenges, Mahfood shares some advice: "Despite what anyone thinks of you, even what you think of yourself, if you have a passion for something just do your absolute best and keep trying, even when you don't like the outcome. [Even when] you don't like the design you just did, or you don't like the make-up look you just did, keep trying and keep practising and you will get better over time."
She spoke a bit of her own experience: "The first-ever design I did was not that great and my first-ever make-up look was not that great, but I didn't give up. I kept trying and trying and practising and trying out different techniques and everything like that, and it's gotten me to where I am now. And I'm not the best right now, I'm probably going to look back at my work a year from now and be like, 'Wow, I've improved so much'. But that's the point – you're always improving, you're always evolving ... . Just don't give up. Keep trying."
UPCOMING PLANS
The young artist and designer, who currently splits her time between Malibu, California, and Kingston, Jamaica, shared a little of what we can expect from her in the future: "In terms of upcoming work, I am hoping to start my own line of swimwear in the future. I don't know exactly when yet. I have my designs and I have the possibility to get them made – I am not sure [about] the timing for different things I have going on. Hopefully, that is something that will happen within the next year or so."
Makeup-wise, she hopes to be working all throughout the year. Keep up with her on pages, @ rebeccamahfood, @beautybybecx and @rdmxdesigns on Instagram to get details.