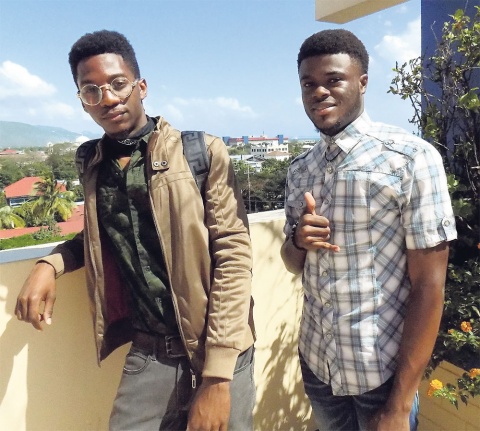 Final-year students at The University of the West Indies, Justin Hall and Lanze White, will graduate in November with more than just degrees. The determined pair have transformed their longtime friendship into a business partnership, launching their online clothing store, Niche Façon, late last year.
Hall, a marketing student, told Youthlink that the two have been friends since attending Kingston College. He shared what he described as a 'strong aversion' for loans, something that sparked the spirit of entrepreneurship in him.
He said, "I don't really like loans. I think it is bad that people take eight per cent loans and are paying it to the bank. I feel like people should be paying eight per cent to you.So, I always had a strong entrepreneurial mindset from an early age, but I didn't really put it to good use until now."
About the decision to operate a clothing store, he said, "To be honest, it was a collective decision by me and my uncle. We used to have a business like this before and since it parked and he migrated, we said we should revamp it and keep it going, and so we came up with the name Niche Façon The term 'façon' is French for fashion. According to Hall, "I didn't really take it  serious at the time; we just came up with the name and I remember one day Lanze and I were walking and it was really hot.We were dying out there and he was saying we really need a car and we both dipped into our pockets and we had nothing, so we said we really need to
change this.
"I got the first set of stock in December 2017," he said. "From there,we got everything going because we really want to have something for ourselves before we finish college."
YOUNG VENTURE
"It's still a very young venture," White pointed out. According to the journalism student, "It's early in the business and we've had a lot of challenges, but we always find ways to overcome them. Our major target right
now is to get our brand out there and make people aware of it."
Customers can order socks, shoes, shirts and 'basically most things male related' via direct message on Instagram (@NicheFacon).
However, according to White, Niche Façon offers something to this type of business that makes its services special. He said. "If you see something online and you're probably wondering, 'Which store can I get that in Jamaica?' You can send a picture to us and we'll source it for you, that's our specialty." 
THE FASHIONABLE MALE
"I don't like seeing young men in society doing the ordinary. I want them to have on something exceptional so people can remember them," said Hall. White added, "We want to help males find their fashion sense. We try
to help them express themselves through fashion, because your fashion should express your personality. That's what we do; we help people to even put outfits together." 
Aiming to open a physical outlet in the future, and possibly entering the women and children markets, the youngsters are passionate about what they do and what their brand represents, for now.
"Your fashion can represent who you are," reiterated Hall. "I'm very passionate about this and I try everywhere I go to look as different as possible so people can look at me and say, 'You're crazy'; but at the end of the day, the crazy ones are the ones who change the world."