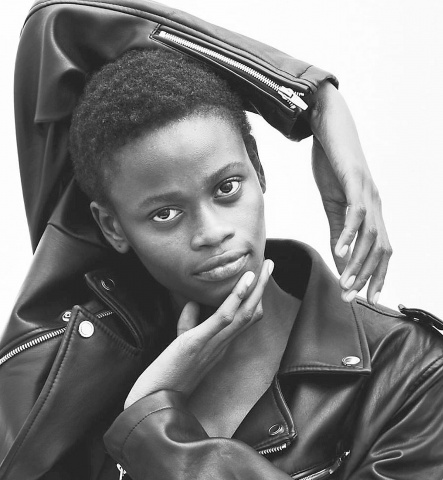 It's a long way from idle, youthful days spent climbing mango trees in St Mary to strutting the runways of Paris for such luxury fashion labels as Balenciaga and Celine. However, for Saint International model Christine Willis, it's all part and parcel of her fabulously fulfilling journey in becoming one of Jamaica's hottest fashion stars of the moment.
Scouted by Saint International CEO Deiwght Peters in 2016 at her alma mater, Tacky High, on one of the globally recognised model-maker's school searches in the banana-producing parish, the then 16- year-old Willis knew very little of modelling, or of the billion-dollar global fashion industry in which Saint has consistently started and grown careers for teenagers like herself.
Remembering that fateful day, Willis shared with Youthlink that "[while] my teacher Miss Gardener had always encouraged me to give modelling a try; however, I never thought I would be successful in the field until I met Mr Peters when he came to Tacky High. He was quite pleasant and told me I had an interesting face. From there, I started travelling from St Mary to attend model meetings in Kingston and going through a training programme to enter the Fashion Face of the Caribbean competition."
Prepping for the annual Saint fashion contest, that attracts modelling agents from Paris, Milan, London, and New York in search of the next major fashion star, was an eye-opener for Willis and also provided many teachable moments.
"At first, the process seemed difficult, because it was my first time entering such a competition and I had to learn how to present myself and to walk in heels, which was quite challenging," the teenager recalled. "However, it built my self-esteem and I soon realised the opportunities that could come from modelling and how much I can learn in the industry."
GOOSEBUMPS
Being part of the fashion competition marked a significant step on Willis' road to international modelling. Only a few months after, the lanky girl from Bagnold Spring, who loved trips to the community river with family and friends, was booked exclusively by Peters to walk the runway for Balenciaga's Spring/Summer show in Paris in October 2017. She gets goosebumps at the memories.
"Doing my first show, the experience was quite exciting. Everything felt unbelievable, as I never thought that I would ever travel to a country like France and be in Paris doing a show like Balenciaga. I felt so happy but nervous at the same time, since it was my first job walking on an international scene and doing such a big show," the alwaysbubbly Willis reminisced.
The Balenciaga connection only strengthened thereafter for the Saint model who so impressed the powers that be of the iconic label, she was booked for their Spring 2018 global advertising campaign that made its debut back in January 2018. Willis was also retained as a face for Balenciaga's e-commerce platform and spent more than a week in Paris being photographed in multiple looks.
PRAISE FOR GRANDMA
For Willis, who grew up with her grandmother in rural Jamaica and credits her for "teaching me so much about life and helping me to become the ambitious young lady I am today, for which I will always cherish and love her unconditionally", there has been steady success in her modelling career. She made the cut for the catwalk for the highly anticipated Celine Spring 2019 show in Paris in September, which was one of the most talked-about collections of the fashion season. She achieved 'it girl' status in global fashion circles as a cover girl for the fall/winter issue of Pop Magazine, which also featured top international models Bella Hadid and Binx Walton on alternate covers. The Pop cover, her favourite editorial to date, was a result of a photo editorial for the influential British fashion publication that was shot by Sean + Seng in Portland, Jamaica, at Frenchman's Cove in May that also starred Saint models Haytal Blackwood and Tash Ogeare. The fast-rising Willis, who celebrates her 19th birthday soon, has other editorial appearances under her belt, including another cover and 15-page feature in Is In Town, yet another British publication which shot Willis and Saint model peer Shanniel Williams right here in St Ann.
Looking ahead, Willis is enrolled at The University of the West Indies, Mona campus, to begin a three-year accounting degree shortly. "I was always fascinated with numbers," she revealed, "and always being a good maths student prompted me to choose accounting as a course of study. I'm sure the experience will be good [and will] broaden the list of job opportunities I can choose from, having a degree in accounting."
She gave assurance that starting university will not detract her interest and love for modelling. In terms of her new year goals, she divulged that "I want to set and maintain a high grade in school, and also work for other brands like Burberry, Fendi and Prada, and hopefully do a Tommy Hilfiger campaign. God's willing, I will also be a step closer to buying a house or a car."