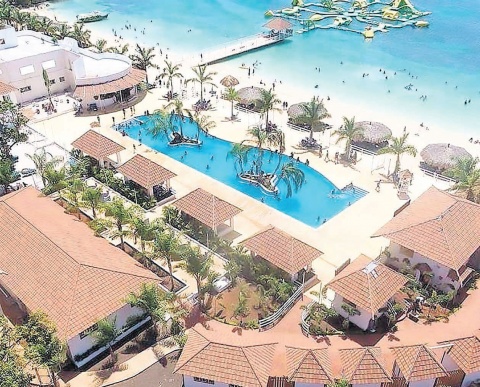 Puerto Seco from a bird's-eye view – a fantastic layout of the beach attraction.
For those of you who adore the sunny beach and cool ocean air, put Puerto Seco Beach in Discovery Bay on your list of places to spend a day. According to General Manager Rory Baugh, "Puerto Seco is basically what I would like to call a luxury beach club for the Jamaican diaspora and visitors to the island."
Opening from 8 a.m. to 5 p.m. throughout the week, the club offers a comprehensive dive programme, sailing, snorkelling, kayaks, paddle boarding and a Wibit obstacle course which, Baugh warns, is "not for the faint of heart".
"We do warn our clients that if they have any pre-existing conditions, like if they have any broken bones or anything like that from the past, we'd urge them not to do it. But the obstacle course is fun; it's a good workout for everybody," he proudly declares.
If you're not a fan of getting in the ocean, the attraction also offers a 150-foot-long, 5 feet deep swimming pool. State-of-the-art changing room facilities and 17 showers are available to wash off between trips to the water and one of the nine cabanas offered with personal butler service and a stocked cooler.
On the stunning property, one will also find the Santa Maria restaurant serving Jamaican and international cuisines as well as featuring an incorporated bar, Pub Picasso, and a Red Stripe Beach Bar. Adding to the food list is a Jerk Shack, sponsored by Best Dressed Chicken and Walkerswood, also on the main deck. Even with all these amazing features, Puerto Seco will soon be adding a miniature zoo (mostly housing iguanas, a pony and birds), a water feature for younger children, as well as hair braiding, flash tattoo services and an ice cream shop to their seaside market. The property is also equipped with a nurse's station for the on-property nurse.
The wonderfully expansive attraction was renovated in 2017 to offer such diverse services. The general manager told Youthlink, "Kenny Benjamin, the chairman of the Guardsman Group, he came down to Puerto Seco and saw that it needed an investment."
Guardsman Hospitality, a subsidiary of Guardsman Group, invested over US $6 million into the property, creating an even more relaxing attraction which one could say "brings families together". During the week, the beach is visited by 150 to 200 patrons between Monday and Wednesday, though Wednesdays sometimes show a turnout of 350 to 400 local and visiting patrons due to cruise ship arrivals.
Baugh mentions, "Business from the Jamaican diaspora is weak during the weekdays. On the weekends is when we see Jamaicans coming in."
Puerto Seco Beach staff member Juana gave Youthlink a glimpse of the typical customer experience with the resort.
"For a lot of persons, their association with Puerto Seco is basically word of mouth, so persons would go to them and say that it's expensive and it isn't family-oriented, but when they actually come to the property, it's a different thing. They would basically say it's a lovely place. It is safe because we have security guards, we have lifeguards, and they enjoy the aura, overall, of Puerto Seco."
Puerto Seco also employs entertainment coordinators who talk to the guests on the property and coordinate daily activities, such as face-painting for the children, various games on the pool deck, dance lessons and cooking demonstrations on the pool deck on select days. As the official website is under final construction, further details on the attraction can be acquired via telephone or through their social media: Puerto Seco Beach-Guardsman Hospitality, Puerto Seco Beach (Facebook) and @puertosecobeach on Instagram.