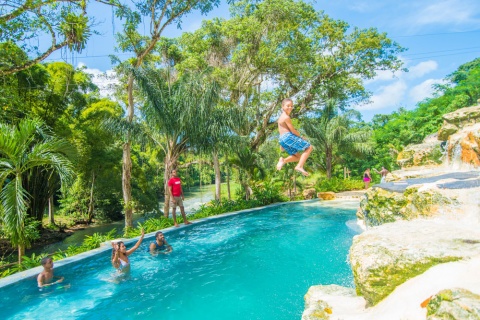 The year is just getting started and so are you on that adventure-filled bucket list. Instead of spending a fortune to make just one tick, work your way down the list in just one outing on your next excursion to Chukka, Good Hope. In one location, there's zip-lining, river-tubing, historic tours, ATV's, waterfall fun and so much more – truly, an adventure for any traveller. 
Overview:
Chukka Good Hope takes its name from the historic Good Hope Estate which was once a working village and sugar plantation in Falmouth, Trelawny. On the estate sits the Great House which was sold to John Tharp in 1767. Good Hope had its own church, a 300-bed hospital, a Free School, sugar factory, and counting house, the remains of which make the property, today, almost the same as it would have been in the 1700's.  Thanks to Chukka Caribbean, Good Hope is the Caribbean's first nature adventure park with a mind-boggling array of activities and cultural experiences incorporating adventure and history for a worthy fusion.
Things to do:
Great House Tour
To set the mood for your day, we suggest getting started on the Great House tour first, just to casually remind you of what awesome piece of history you will be standing on all day! Jade and the other knowledgeable tour guides at Chukka will take you back in time as you roam through the display of some of the fine architecture from back in the day. Before Tharp's purchase of the property in 1767, the House was built by Thomas Williams in 1755 for his wife, Elizabeth. She did not enjoy it for long as seven years later she died at 24 years old and was buried beneath the ground floor. Her tiny grave spot (as she was very petite) is still visible inside the House! 
River tubing on the Martha Brae
Row, row, row your tubes gently down the Martha Brae! Chukka Good Hope gives new meaning to the 'lazy river' experience. That's because you are actually on a river (a very famous one) and tubing lazily at a relaxed pace in a centipede formation led by a tour guide. If you're lucky to get 'Coolie' as your guide, be prepared to erupt in laughter at some of his jokes and riddles (sidenote: we're still in stiches!). 
Zipline Canopy
Make like Tarzan (or Jane) through the jungle on Good Hope's zipline canopy and experience the Estate from the better view. Over you go while the Martha Brae below gallops on and the river tubers cheer you on for a friendly and fabulous experience. 
Waterfall fun
To make your day sparkle just a 'tups' more, Good Hope also boasts a Jungle Adventure Fall with 3 pools, a cascading waterfall, river walk, and 300 feet waterslide. Challenge yourself to climb to the very top for the perfect #SelfieMoment! 
Must-try activity:
It's a tough decision but we recommend the jungle adventure fall as the one activity you can't leave without trying. Apart from the postcard-worthy look and feel of the area, a waterslide and cascading waterfall emptying into three pools sounds just perfect after a long day of thrilling adventures. 
What to pack:
For the muddiness of the ATV's and Dune Buggy rides you'd definitely want to pack a change of clothes. Pack a swimsuit, also, for the waterfall and pool area and sunscreen for protection.  
Cost and packages:
James Robertson, General Manager, recommends the Ultimate Thrillseeker package because, "It is such good value – Bar all day, Lunch, Guided tours of Tubing, ATV, Zipline, Great House, Rum Tasting, Challenge Course, Slide, Water Park and
Tropical Aviary." This package is currently going for 118USD.
Other packages include the Thrillseeker for $90 which is everything in the Ultimate package minus the motorized activities and the Estate Pass for $34 which is inclusive of access to the Waterpark, Great house, Challenge Course and Aviary. According to Robertson, you can buy the Estate tour then add on any one of the Ultimate Thrillseeker individual tours as an upsell.