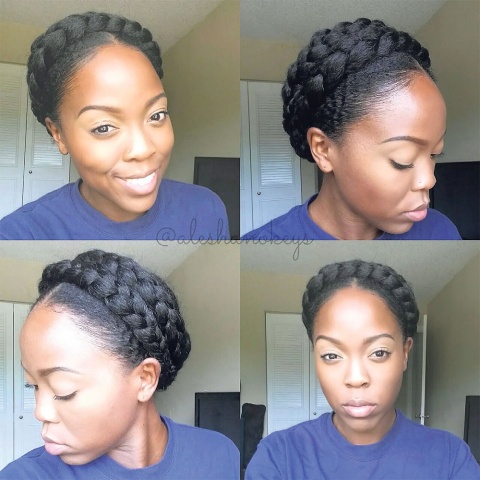 Hair for almost everyone is hard to deal with sometimes. With the increasingly popular natural trend, multiple techniques have been shared on how to manage natural hair. Naturalistas and hair gurus are constantly finding ways to keep your hair protected from the terror of breakage, and also also to avoid the bother of constantly having to redo it. Here are five popular hairstyles for African hair that are guaranteed to make hair management just a little easier for us. These styles are known for not only preventing breakage, but also for preserving the hair's moisture, encouraging faster growth and, of course, looking stylish.
5. French twists
This style has been increasingly popular among all hair types. It consists of two symmetrical twists on either side of the head, and is ideal as a quick protective style to do right before bed; however, it can also be worn out. It is said to be more ideal for straighter hair, so those with natural African hair should ensure that their hair is thoroughly detangled and brushed. Straight hair is not essential for this style, but the more stretched the natural hair, the easier it will be to twist. This style is one of the easiest to do for any hair type.
4.Ghana braids/banana cornrows
While this is doable for natural hair experts, Ghana braids are typically done by professional hairdressers or hairstylists. This style consists of cornrowing thoroughly sectioned or parted hair into relatively large cornrows which are often directed to either the left or right side of the head. The cornrows are done using a special method to achieve distinct branches. Ghana braids are ideal for those seeking a secure and longlasting hairstyle. The style is usually done using extensions.
3.Natural flat twists
Flat twists are used to form many hairstyles and the technique is considered by some to be less strenuous on the hair roots, as opposed to cornrows. Usually, portions of detangled hair are separated into three smaller bits and twisted gently towards the scalp. The pattern of the twists depends on the desired hairstyle. Flat twists are relatively quick and easy to learn.
2.Dutch roll
This is often referred to as the tuck-and-roll and can be used to form various styles, especially for short, natural hair. It involves separating detangled hair into sections at various parts of the head (depending on the style) and gently rolling each section back until the desired style is formed. A typical dutch roll usually starts by parting the hair and rolling each side from the front to below the ears, then tucking the remaining hair and securing it with bobby pins. This style tends to be easy on the roots once done gently, and it prevents breakage by keeping hair ends from rubbing on the shoulders. It is so quick and easy.
1.Halo braids
Halo braids are also known as goddess braids or crown braids. If one is new to this style, it is wise to have it done by a hairdresser initially. The style in itself is rather simple. It tends to require extensions, though, as it involves braided hair being wrapped in a circle around the crown of the head. The first step is to part the hair and ensure it is in a smooth bun. A single, long braid is then attached to that bun using scrunchies or bobby pins,
after which the braid is appropriately wrapped around the head and tucked or secured with more bobby pins. An asymmetrical crown braid can also be done by creating two large flat twists along either side of the head, and tucking the ends of each underneath the opposite braid by wrapping it around the back of the head.
Note: Each hairstyle requires the hair to be thoroughly detangled and moisturized with the appropriate products of your choice. One of the primary purposes of these styles is to seal in moisture, thus the hair has to be properly hydrated beforehand.
Detailed tutorials for each style are provided by the following YouTubers: DaneshaB Danesha, The Curly Closet, Naptural85, Rayann410, Chizi Duru and Taymicia. More natural hairstyle ideas are available at: stayglam.com and therighthairstyles.com.