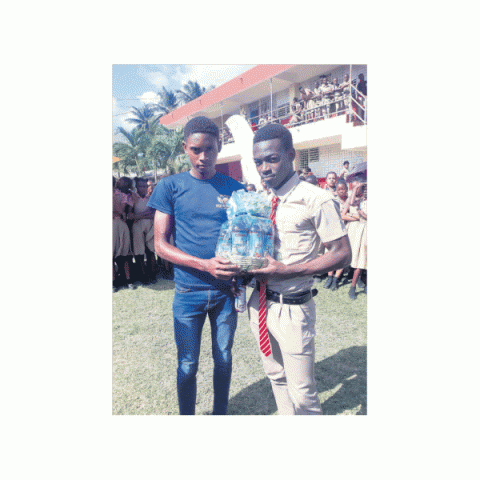 YOUTHLINK WRITER HE YOUTHLINK/HONEY
Bun High Achievers School Tour made its way to Linstead, St Catherine, to initiate the final phase of its ninth-week staging at Charlemont High School on Friday, February 7. As is the norm, the tour was well received
by the Charlemont family, who were very enthusiastic.
The tour featured its usual Honey Bun modelling competition, the dance-off challenge, Sparkling CranWATA push-up contest, as well as the highly anticipated Sparkling Cran WATA jingle match. Sparkling Cran WATA  champion Tajari Brown exhibited a significant amount of confidence as he made his way to the centre of the stage to deliver a very lyrical song promoting Sparkling CranWATA. His performance was simply WOW! His audience seemed even more ecstatic when he boldly declared himself as the winner of the jingle challenge, leaving him seemingly unchallenged Oate SWna'ure Ronaldhino Brown stands proud as the Honey Bun $10,000
grant winner. Scenes from the Honey Bun modelling competition. 
THE GLEANERS Honey Bun Honey Bun Honey Bun for the final 10 count; the MC had no choice but to encourage a few reluctant persons to come forward and challenge him for the Honey Bun
link School and Cedar Achievers School 1 our
• school principal Choices. Teacher Damion Kelly is happy to be featured in Youthlink. Honey Bun These are Charlemont's high achievers.
title. In the end, he declared Victor a gifting proudly accepted high achievers was also met With and positive as watched their schoolmates receive their I Iigh Achiever Before getting things under way, MC Cornelius chant * few minutes to a first-form students on the critical Of respectful, and needed them to that been recognised a. achievers Were selected by It what may he as lorg as that to his as exercise discipline in t]ut to do, in the to has teachers and Students• coming said Cornelius. 
and had fun. We have felt their energy! I see some teachers having their hands filled with up to eight Youthlink magazines and tons of Honey Bun products and Sparkling CranWATA. The support and love is there.-
How,' Bun's S I C , 000 grant winner, Ronaldhino Brown, was hailed by one and all as he made his way towards the MC to claim his prize. It was clear that he felt excited about winning, but his friends nearby were even hap,
picr to sec their comrade brimming with joy. This season's tour is scheduled to run from mid-January until the end of February and is sponsored by Squeezz and Sparkling CranWATA.
AWARDING
Top students from second — fifth (l male, I female).
Top student from the technical area: visual technology (this student will be given an opportunity to get his/her work published in The Gleaner's Youthlink).
One outstanding student from the sixth form.
Each student will receive a co.branded high achievers badge and a package/goodie bag from The Gleaner Company or I loney Bun.
One of the outstanding students will also walk away with a SIC, CCO grant (a student who has done well despite had a situation — challenging family situation, etc).