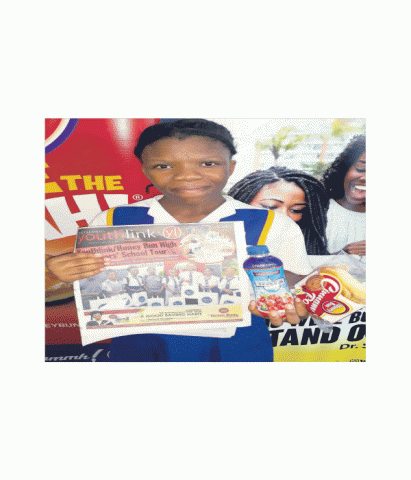 LOCATED AT 31 Molynes Road, Kingston 10, Tarrant High School welcomed the Youthlink/Honey Bun High Achievers School Tour on Friday, January 24. The morning's momentum began to slowly build as the teams set up their booths in the school's auditorium, anticipating the huge turnout of students, as has become customary.
"Custom, yo rubba. Custom, you nuh seet dem a jus come", lyrics from popular 'Brogad' entertainer and member of the trending Montego Bay-based dancehall group '6ixx', Daddy 1, immediately pulled students from the different grades into the auditorium. "Mi heart yuh wah rip out, seet yah Adijah Palmer, aka, Vybz Kartel's voice blared through the speakers, stirring up a frenzy of dancing and singing from students, auxiliary staff and a few teachers.
They sang and danced with each other in a synergy that showcased just how impactful the DJ's choice of songs and the MC's vivacious and magnetic character were in entrancing the students. The sensational music, the animated style and energy of the MC and Honey Bun dancers, the colourful display of Honey Bun snacks and Sparkling CranWATA, as well as the affordable Youthlink cost, culminated in a successful, exhilarating tour filled with theatrics. 
As MC, Tarrant 'old boy', and a former educator at the school, Cornelius Grant was flooded with nostalgia as he reminisced on his days as a student and teacher at his noble institution. 'Indeed, I am glad to be here, and I have been looking forward to having the tour venture here and award some very diligent and vibrant students, ' he said. "Tarrant High School is a brilliant school. I was once a student and educator, so I have the social context of students and teachers. I am proud to see the students and educators here being given a great time with Youthlink and Honey Bun, as well as awarding the achievers."
"On behalf of the board of governors, principal leadership, staff and students of Tarrant High School, I want to congratulate Youthlink and Honey Bun on the for- ward-thinking in acknowledging, promoting and awarding excellence in our schools. The event brought together a fruitful partnership between Tarrant High, Youthlink and Honey Bun," said the school's guidance counsellor, Mr Stephens. "This produced a well-organized and
executed event, which saw the staff Of Youthlink, Honey Bun and students of Tarrant High enjoying the delicious products offered by Honey Bun, and the also the team from Sparkling CranWATA.
There was also very informative and exciting readings penned in the Youthlink magazine. Students 'gobbled' up the information in Youthlink and the products offered," he continued. "The entertainment and on-the-spot quizzes were fun and well received by the students – evident in their full participation. It was a well-executed event; great concept instituted by Honey Bun, and the awards/ rewards from such an occasion was an  overwhelming success. Big up Youthlink and Honey Bun ... Sweet so till Stephen Luke say soh!" finished Stephens. This season's tour is scheduled to run from mid-January until the end of February 2020, and is sponsored by Squeezz and SparklingCranWATA.
AWARDEES
Top students from second to fifth form (1 male, 1 female)
Top student in a technical area: visual arts/building/engineering technology (This student will be given an opportunity to get his/her work published in Youthlink).
One outstanding student from sixth form.
PRIZES:
A co-branded High Achiever badge and a package/goodie bag from The Gleaner Company or Honey Bun.
The High Achiever $10,000 grant (the student who has done well despite a bad situation – challenging family situation, etc).