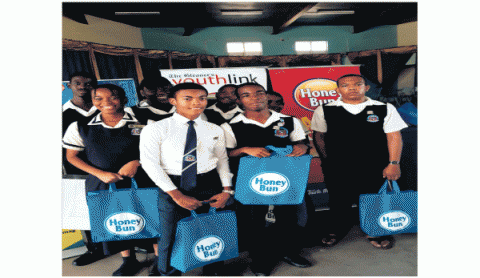 The Cedar Grove Academy high achievers smiles proudly to be selected for their hard work and determination.
These students are highly appreciative of the tour.
SCHOOL TOUR Bun
Youth Link/Honey Bun High Achievers School Tour at THE CEDAR GROVE ACADEMY
Rushaine Clarke YOUTHLINK WRITER  OCATED IN Gregory Park, Portmore, St Catherine, The Cedar Grove Academy became one of the latest stops on the Youthlink/ Honey Bun High Achievers School Tour, on Friday, January 17. Once again, students who would have normally had a conventional, routine day of class were given a particularly exciting, electrifying, informative, action-packed day, thanks to the team from Youthlink, Honey
Bun, and Wisynco.
The purpose of the tour is to acknowledge the efforts of students who manage to surmount unimaginable circumstances while maintaining beyond-sat- isfactory academic performances. The tour has so far been a  eaningful journey, rewarding and encouraging students to persist in their pursuit of quality education despite challenges. Connecting, through entertainment and competitive giveaways, with educators, students and members of axillary staff who would have normally been preoccupied with their daily agendas, has been an added benefit.
The Cedar Grove Academy students were fully engaged in all the activities, and were eager to purchase their copies of Youthlink and get a free Honey Bun product and a Sparkling CranWATA.
The auditorium was packed with students who keenly supported their schoolmates as they participated in activities such as the Honey Bun modelling and jingle competitions. 
"If yuh thirsty, drink WATA wid Wow; if yuh get bun, drink WATA wid Wow", sang the winner of the Honey Bun jingle competition, Joshua King. His performance earned him a gift basket of Sparkling CranWATA, which he immediately shared with a few of his supportive friends while they were taking pictures together.
"I would like to express sincere gratitude to the Youthlink/Honey Bun School Tour teams, as well as to the sponsors for including my students in such a great initiative," expressed teacher Ms J. Birthwright."On behalf of the Cedar Grovian family, I thank you for acknowledging the work and worth of our high achievers. Here at The Cedar Grove Academy, we strive for the holistic development of our students, hence we applaud you for your continued contribution to the youths of Jamaica. Continue to strive for the total development of our secondary students," she continued.
AWARDEES:
 Top students from second to fifth form (1 male, 1 female).
 A top student in a technical area: visual arts/building/engineering technology (This student will be given an opportunity to get his/her work published in Youthlink).
 One outstanding student from sixth form.
PRIZES:
 A co-branded high achiever's badge and a package/goodie bag from The Gleaner Company or Honey Bun.
 The High Achiever $10,000 grant (the student who has done well despite a bad situation – challenging family situation, etc).
Nike Air Force 1 '07 Lv8 Utility White/White-Black-Tour Yellow