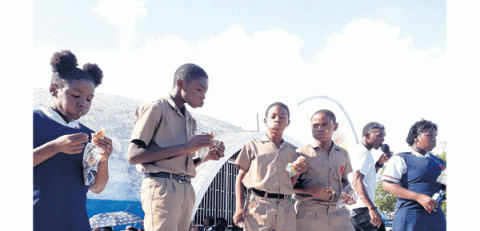 Honey Bun eating competition.
BRIDGEPORT HIGH School, located in St Catherine, got in on the excitement surrounding the Youthlink/Honey Bun High Achievers School Tour on November 5. Despite the overwhelming heat that visibly discomforted them, the students were highly enthusiastic, very involved in the proceedings of the tour, and demonstrated that fun and entertainment are ingrained in them by displaying a variety of talent in the creativity segment of the programme.
"The students at Bridgeport High are extremely talented! The male dancers were definitely gifted, but it was the females who really took the show. Those girls were very entertaining; full of vibes, self-assured, and electrifying. Their peers absolutely loved their animated performance," said MC Cornelius Grant. "Self-expression is a very important aspect of entertainment. I am proud of these young ladies for going onstage – despite the heaviness of crowd anticipation – and delivering such a breathtaking performance," he concluded.
Similar sentiments were expressed by Wisynco blogger Tarrick Anderson. "The students at Bridgeport High definitely came out with SPARKLING personalities as the Youthlink/Honey Bun High Achievers School Tour came through their lawns. The talent they showcased onstage through dancing and free-styling was definitely phenomenal, but it was the females who took the show with their dynamic, free-spirited and confident personalities. They truly epitomised the meaning of SPARKLING on the day and we thank every single one of them for their support," he continued.
In keeping with the high achiever's purpose of the tour, the students who were awarded for their diligence expressed tremendous gratitude.
"I felt awesome to be awarded by Honey Bun with $10,000. Hard work really pays off, and I am glad that my efforts in being an outstanding student are acknowledged and awarded," said high achiever Savanah Thomas. "Honey Bun is one of my favorite companies and I always purchase their products. I love their cinnamon roll, doughnut, and cheese bread," she exclaimed.
She further noted that it was her first experience reading Youthlink, but said that
BRIDGEPORT
CONTINUED FROM 5
as she read, she saw that it was very interesting and conveys the image of a 'junior' Gleaner – catering to everything relating to teenagers and their lifestyle. AWARDS
Top students from second to fifth form (1 male, 1 female)
Top student from the technical area: visual arts/building/engineering technology (This student will be given an opportunity to get his/her work published in the Youthlink.)
 One outstanding student from sixth form. PRIZES
Each student will receive a co-branded high achiever badge and a package/goodie bag from The Gleaner or Honey Bun.
One of the 10 students will also walk away with a $10,000 grant. (A student who has done well despite a bad situation – challenging family situation, etc.)
The tour is scheduled to run from October 23 until the end of February 2020, and is sponsored by Squeezz and Sparkling CranWATA.