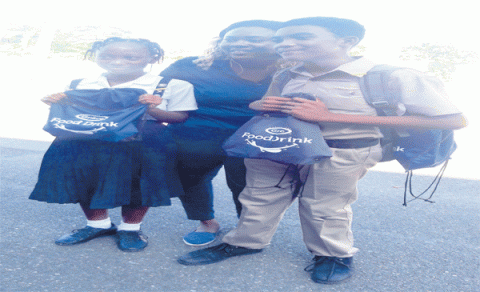 Karen Mussington from Grace Food Drink giving away gift bags to students.
THE RONDELL Positive Music's 'Open To Purpose' Devotional School Tour continued its journey of inspiring the younger generation when the team visited Tichfield High School on Monday, October 28. The morning's proceedings began with the setting up of the booth by lead sponsor Grace Food Drink. They provided students with breakfast shakes, ranging from Walnut Caramel and Butter Almond to Tropical Strawberry and Smooth Vanilla, along with snacks from Frito-Lay, as well as Catherine's Peak Spring Water. The scene was peaceful and very relaxing, especially as the school is situated right by the sea, so the view was spectacular.
Alicia Taylor, a member of the Rondell Positive Music team, led the morning's devotion after a powerful prayer by her husband, Malachi Taylor. She was also the host for the morning. After the devotion, there was a performance by Romaine Clarke, and he did an excellent job. He performed Release The Struggle, which was written by him and his brother, as well as his personal rendition of an old-time gospel favourite that is frequently sung in schools.
After this came a performance by Dunamis Reignz. His song selections had the crowd rocking along, especially to Come Against, which speaks about finding peace within oneself and breaking away from all manner of evil and hate. This, of course, comes through finding purpose and accepting God. He later spoke about his life experiences, which was very inspirational to the students, as he spoke about growing up in a poverty-stricken home, which later drove him into a life of violence. After a life full of hate and crime, God saved him at the age of 21 and now he designs clothes and is also a minister.
"It doesn't matter what people say about you; it is what you think of yourself. There is a purpose inside all of us," he restated as he was closing.
Then came another ambassador for the Open To Purpose School Tour. He spoke about his circumstances also growing up in a poverty-stricken home in St Mary. His house was the one they called a chicken coop and they used to call him 'Rosie's Leggo Beast'. He said that despite going to school only twice per week during his primary-school years, when he went to high school he defied the odds that were stacked against him, and he now holds a double major, including in marketing.
"I cannot believe that now even the to Rosie's Leggo Beast, and people want Rosie's Leggo Beast to attend their meetings so that they can get his views upon topics. It's not about where you are coming from. It as about where you plan to go," he reminded the gathering, upon closing.
Karen Mussington, brand ambassador for Grace Food Drink, gave away gift bags to some lucky students and gave a short talk about finding purpose, before introducing the different types of food drinks that Grace offers.
"I am so pleased that Grace could be a part of this, as this is truly inspirational to students," she declared.
Following this was a performance and talk by gospel artiste Rondell Positive. This is his alma mater, so he was very pleased to be back and to give back to his school. He performed songs, including Keeping me Alive and Purpose a Call You. He then opened up about his life experiences at the school when he lacked focus.
"I used to stand under that arch with women, and my music teacher used to tell me to come to choir practice, but I refused. Look at me now. She saw my purpose long before I did because it was the same Rondell that is present today that was present all those years ago." After his session, the programme ended.
The school tour ran from September 16 to November 4. There was also an entrepreneurship conference scheduled for November 14. The tour was powered by Grace Food Drink, alongside associate sponsors Catherine's Peak Spring Water, Always, Frito-Lay, the Victoria Mutual Foundation, OTP (Open To Purpose), and RPM (Rondell Positive Music).