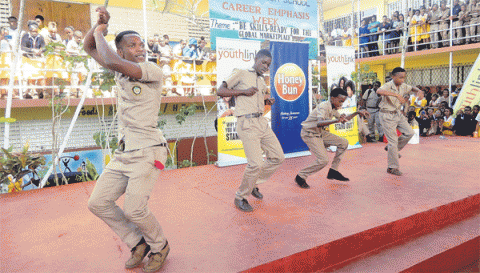 Honey Bun dancing competition.
THE YOUTHLINK/HONEY Bun High Achievers School Tour ventured to Spalding High School on October 29 to give the students at the cool, Clarendon-based institution – surrounded by luxuriant and attractive plant life – a day to remember.
"If I lived here, I would not bother to bathe in the morning to come to school. I would bathe after school, but not in the morning or in the night. The water in the pipes here [is] too cold," said comical media personality and MC of the tour, Cornelius Grant.
His declaration received an amused response from the crowd of students who filled the school's auditorium while anxiously anticipating the excitement to come.
"So mi seh pull up yu pants and put it pon yu waist and tuck in yu shirt, and don't bleach yu face. Inna my days that mi a meditate so mi study fi di test, mi no procrastinate" ... the lyrics from the veteran Vybz Kartel's School had students screaming with delight and singing in anticipation of the fun and entertainment associated with the tour's initiative.
"This occasion has been wonderful at Spalding High. The students were very interactive and have demonstrated their love for Honey Bun, Youthlink, and CranWATA," said Wisynco brand ambassador Petergay Turner.
High Achievers School Tour was a fun-filled event that brought much excitement to Spalding High. The students were actively involved in the different activities that showed a display of talent, creativity, and excitement," said Spalding High's Youthlink coordinator, Nadine Smith-Williams. "The teachers and other staff members appreciated the venture – that came as a much -needed icebreaker for the teachers, as well as the students, who had a boom of energy when they returned to classes," she continued.
High achiever and Honey Bun's $10,000 grant winner, Delano Hamilton, expressed delight at being selected as the most prominent high achiever among his other nine colleagues.
"Upon receiving this award, I feel tremendously happy! This award will help me to acquire the necessary art material to complete my SBA," he said.
Guest artiste Stylo G gave a powerful, highly engaging performance. In particular, his performance of Nicki Minaj's trendy Touch Down was extremely well received.
The tour is scheduled to run from October 23 until the end of February 2020, and is sponsored by Squeezz and Sparkling CranWATA.
AWARDING
A. Top students from second to fifth form (1 male, 1 female).
B. Top student from technical area: visual arts/building/engineering technology (This student will be given an opportunity to get his/her work published in Youthlink).
C. One outstanding sixth-form student. PRIZES
D. Each student will receive a co-branded high achiever's badge and a package/goodie bag from The Gleaner Company or Honey Bun. 
E. One of the 10 students will also walk away with a $10,000 grant (a student who has done well despite a bad situation – challenging family situation, etc).