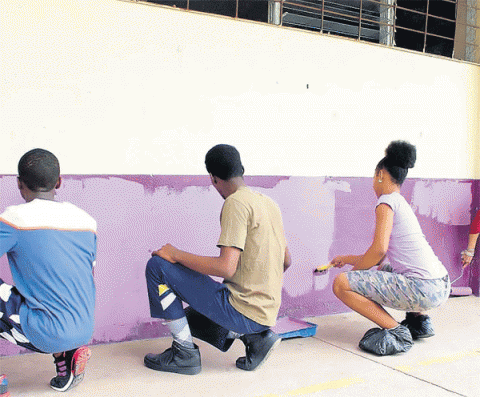 'More of them should be involved in charity and use the lofe of bread that they have to give back'
PUTTING SERVICE above self and making good use of the figurative 'loaf of bread' we all have is a powerful school of thought for Old Harbour High School student Tajay Francis, and he wants to get other young men thinking
this way, too.
"I think that as it is in Jamaica, our young men are falling behind," he said. "More of them should be involved in charity and use the loaf of bread that they have to give back, so that other young men see them as a role model and see them doing good," he shared.
This is something Tajay believes will steer Jamaican boys in a positive direction, producing more young men of service, philanthropy and who are humanitarians, inspiring an overall culture of charity. He is not all talk and
no action. The former Spanish Town High student is already being the change he would like to see. Last year he started the Tajay Francis Hope Foundation, which he hopes to use to give back towards the state. "So far, we did two projects," he said. "We volunteered with a United Nations
agency as well the Davina Bennett Foundation to assist two schools." The ultimate goal for him is to meet his target of specifically assisting wards through donations that he plans to go out and seek. This vulnerable target group is chosen for a reason. "I think that most of them (wards) are usually the ones who are ignored, in the sense that they are young people and in homes; they are the ones who would normally have low self-esteem,"
he said. "Giving back to them is almost as if I am giving them a ray of hope and being an inspiration, so if Tajay and his team can be motivational, then you who are at a children's home, you can do it just as me." Meet some of the members of the Tajay Francis Hope Foundation. From left: Nickesha His team of volunteers currently includes 10 Duncan, Moesha Bennett, Oneisha Nelson, Kemaya Edwards, Tajay Francis and classmates, and schoolmates. He also performs Patrena Knight.
well in school, but when it comes to balancing charity and academics, Tajay, 18, feels it all boils down to passion and balance. "For me, it's all about what you love, and once you're passionate about something, you will find time to do it," he said."It's definitely a balance, and I just do it and get things done. I know that this is when I have to study, and I know that this is when I have work outside to do."
BE YOURSELF
The philosophy that most guides this young leader is a crucial one, especially as more Jamaicans, often unknowingly, struggle with an identity crisis. He said, "My philosophy is the minute you learn to love yourself, is the minute you won't want to be anyone else. Growing up, I used to struggle with figuring out my identity and who I was." Now that he has decided who
Tajay Francis is and wants to be, he is certain of one thing – charity will always be a part of him. "Charity is always something I will do," he affirmed."I remember there was a time when I never had things, and I would really like to see somebody give me something so I can say, 'Yes, I got this and I am motivated by the person to give as well'." He was inspired by his neighbour, while growing up, who would always look out for him and his siblings, as their own household did not always have the necessary financial resources.
"I grew up seeing that, so now that I have more knowledge on a lot of things, I think that is what inspires me to go out and do what I do," he said. His plans for the future are many as he currently weighs his options on whether to pursue tertiary education locally or overseas. His ambitions in life are anything but simple. "I would like to be a multibillionaire, an entrepreneur investing in financial stock and a motivational speaker," he said. "I write poems as well, so I could also be a poet and an author."