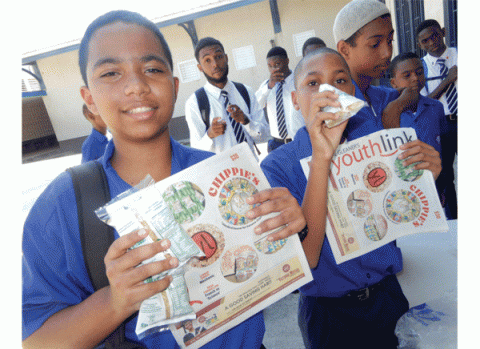 Two lower-school students posing with Youthlink and eating Chippie's banana chips.
JAMAICA COLLEGE (JC) was filled with vibrancy and laughter when Youthlink, alongside Chippie's, visited the institution on October 15. Located at 189 Old Hope Road, Kingston 6, JC proved to be very patriotic as their belief is that there is only one colour worth showcasing, and that is the 'true blue'. The young men appeared comfortable in their environment, and even the first-formers seemed well acquainted and habituated within the walls of the well-kept property, which features bins at every corner.
During the pop-up sale, we were greeted with many smiling faces and very helpful sixth-formers, who were willing to assist in any way that they could. What stood out the most at this school was the level of teacher participation. Many teachers were among the students buying Youthlink and receiving their Chippie's banana chips with every purchase. The teachers were especially curious to know what was in the educational section of the paper so that they could share the knowledge with their students.
Luis Castriota, a first-former at Jamaica College, had many things to say, with great enthusiasm and energy, about the product. "Chippie's is the world's greatest chips! It is definitely tasty and crunchy and is enticing to my taste buds!" he exclaimed.
At the end of the day's event, Company Director of Chippie's Arty Grant said, "Honestly, I was pleasantly surprised that the current generation appeared as in love with the product as my generations and other past generations. A core value of the company, health or otherwise, is to provide a quality product; that quality is based on consumer needs that will continue to change for the better. Working with Youthlink was a pleasure, as I loved the energy and the willingness to be flexible by the Youthlink team, which made the event a success."
After the pop-up sales, Youthlink met with some of the sixth-formers to learn a little more of them. These students were Tarjmaar Miller, Jumaane Shakespeare, and Fabian Morris. Miller manages to balance sports and academics; he is on the track and field team and manages to keep his average above standard. He is also the school captain. Shakespeare is the first vice-captain. He maintains an average of above 80 per cent and is also the captain of the quiz team. Morris is the current winner of the Rita Marley Public Speaking Competition and the outgoing president of the nation's premier advocacy group for the National Secondary Students' Council. He also received one of the highest awards at the United Nations Association of Jamaica summit at the United Nations.