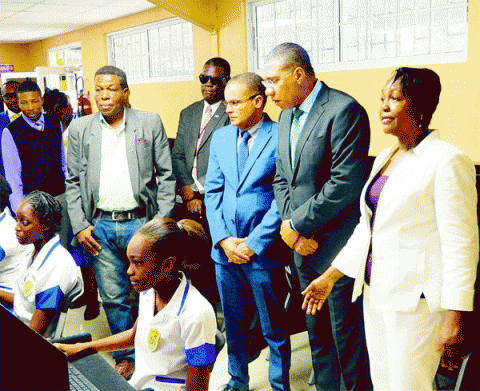 Exploring the ICT lab.
FUTURE
"As the present captain for this ship it is my vision for Penwood High to be the premier high school, offering a comprehensive education utilising the best practices in international secondary education. We will continue to play our part as we advance the welfare of the whole human race," she said.
Specially invited guest, keynote speaker, and Member of Parliament for the Kingston and St Andrew Division, Prime Minister Andrew Holness, highly praised the educators and administrative staff for their efforts in maintaining discipline, in light of previous issues surrounding attendance and performance.
"I can tell when I enter [a] school, when a school is improving; when its management and leadership are working it is palpable, just by entering the institution," the PM said.
"We have had some very difficult times at this school and I can tell you, because I've been here with you for a very long time, and I have been witness to some of the challenges that you face. So you must understand how proud I feel when I see the school now starting on the upward trajectory," he added.
The prime minister stated that based on the CSEC results, the measures implemented for reinforcing discipline and academic performance by the school's administration is bearing fruit. He also thanked the Overseas  xamination Council for the provision of the school's computer lab, stating that it will aid not just in computer and technology literacy, but also in exams that will be sat online.
"As we progress and the IT becomes robust in this area, many of our exams will be sat online, and so schools having these labs will be at an advantage, because they will be able to participate in those exams which are conducted online," he concluded. The lab was officially launched with the cutting of a ribbon by the prime minister. Located at 8 Rhoden Crescent, Kingston, in the Olympic Gardens community, Penwood High is a  oeducational high school serving over 800 students from adjoining communities. The school not only offers academic programmes, but seeks to ensure the holistic development of its students. Subject offerings include English language, mathematics, natural and social sciences and the business subjects.