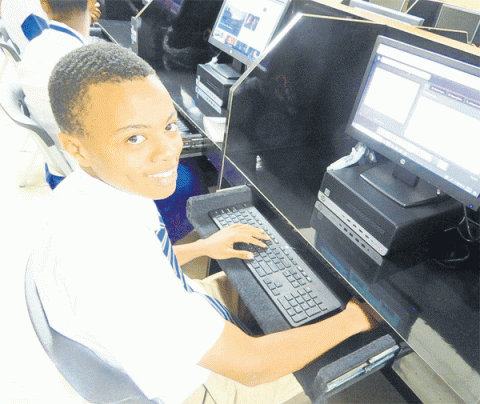 "It's a great lab and far better than the first. I believe this is a significant gain to our school and will definitely aid in sharpening our computer literacy skills," stated fourth form student Tyrese Lindsay.
THE STUDENTS of Penwood High School are now boasting the acquisition of a newly constructed state-of-the-art information and communication technology centre. The school held its official opening ceremony of the centre in the auditorium under the theme 'Creating Vision, Enacting Change, Moving Forward,' on Friday, October 4.
"Alumni, students, and parents, welcome to the official opening of our new computer lab. Students, a great deal of effort and care has been put into the design and construction of your new computer lab. Penwood has endeavored to use only the latest and most advanced equipment and materials; no corners have been cut!" stated Board Chairman Gregory Pullen.
"The floor tiles are porcelain, which is much more expensive than the customary ceramic, but they are expected to outlast your five-year term and then those terms of your many successors. The lighting is LED, the air conditioners are inverter, the ceiling tiles are acoustic, the computers and the Internet switching networks are modern and fast. The Internet is delivered by high-speed, state-of-the-art fibre-optic cables; the audiovisual system is supported by 65 inches of smart television," he said.
The chairman further noted that the students previously had access to computers but will now benefit from 40 more Internet-equipped computers, as well as Wi-Fi for approved devices which will legitimately aid in the furtherance of their education.
Representative of the Ministry of Education, Youth and Information, Ricardo Kennedy, commended the school. "The journey of a thousand miles begins with the first step, and at Penwood High School, you have made giant steps towards growth and nation-building."
THE JOURNEY
Principal Donna McLaren gave 'The Journey of PHS,' which was essentially a reflection of the school's history, its achievements in sports and education, and