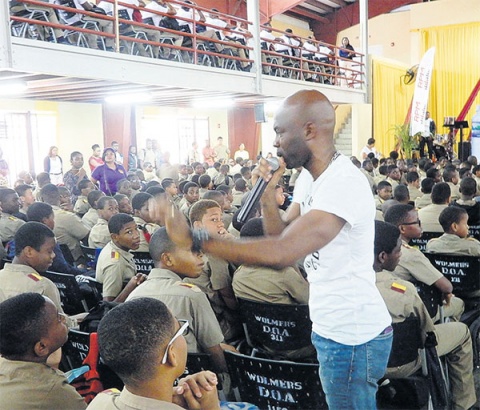 Rondell Positive gives the students a powerful message about the purpose within them.
The Rondell Positive Music's 'Open To Purpose' devotional school tour embarked on a nostalgic trip to Wolmer's Boys' School on Friday, October 4. A booth set up on campus by lead sponsor Grace Food Drink provided breakfast shakes ranging from Walnut Caramel, Butter Almond, Tropical Strawberry to Smooth Vanilla. There were also snacks from Frito-Lay and hydration from Catherine's Peak spring water for the students.
The morning progressed well with Open To Purpose ambassador Alicia Taylor leading devotion and introducing the I Am Purpose team members, all of whom entertained and delivered testimonies regarding their journey to finding their purpose. Gospel artiste and Open To Purpose team member Dunamis Reignz gave a powerful performance of his song Come Against, then told an emotional story about growing up and being exposed to domestic and inner-city violence.
"I saw my stepfather constantly beat my mother and, to make matters a little bit worse, at that point in time my stepfather was a police, so I expected better from him. Now, growing up and seeing that, I lost complete confidence inna di police force in our system because, for me, if the person who is supposed to be protecting and serving a do that, mi nuh wah hear nothing from nobody," he said.
Dunamis explained that he found love and acceptance in the streets. He also said that he nearly had his life cut short at a party as a result of his lifestyle in the street. After a failed attempt at assassinating an enemy, as he sat down on a step with his gun on his lap and a spliff in his hand, he said God transformed his life and showed him that there was a greater purpose for him that exceeded what he was doing in the streets.
"Right deh suh pon the step God seh to mi that I have created you for more; there is greater inside of you than you can ever dream or imagine. Right deh suh pon di step my life transform. The youth weh never used to love nobody start feel again, start love again!" he exclaimed.
Gospel artiste Rondell Positive then delivered a thought-provoking speech to the young men.
"Welcome to the Open To Purpose tour, and we're here just to share with you and to get you to understand who you are. That was exactly what Dunamis was sharing a while ago," he said.
He encouraged the students to dissociate themselves from entities within the dancehall fraternity that promote violence and acts of delinquency. "You can change Jamaica. Every single one of you sitting in the seat that you're sitting in carry the change that Jamaica needs. You are the change, you are the change, gentlemen, you are the change," he emphasized.
Following his performance, CEO of GK Foods Domestic, GraceKennedy Ltd, and former Wolmerian Frank James was full of emotions as he spoke of his days as a student at Wolmer's.
"Good morning, Wolmer's. It's nice to be home. In my time we never had these luxury accommodations. Actually, I used to have devotions out in the sun. I was actually in second form when the mall at the time burned down, and so we had devotions for the rest of my time at Wolmer's out in the sun," he said.
"Grace, through one of our latest innovations, Grace Food Drink, is truly excited to be the main sponsor of the Open To Purpose school tour, not just because it gives us an opportunity to introduce a great product like Grace Food Drink to students across the island, but because it goes to the heart of one of the things we believe in as a company – improving the lives of young people by helping them find their purpose. That, Wolmerians, will transform Jamaica – so big up Rondell Positive – nuff respect!" he concluded.
The school tour runs from September 16 to November 4. It is all powered by Grace Food Drinks, alongside associate sponsors Catherine's Peak spring water, Always, Frito-Lay, Victoria Mutual Foundation, OTP (Open To Purpose), and RPM (Rondell Positive Music).
An entrepreneurship conference is scheduled for November 14.