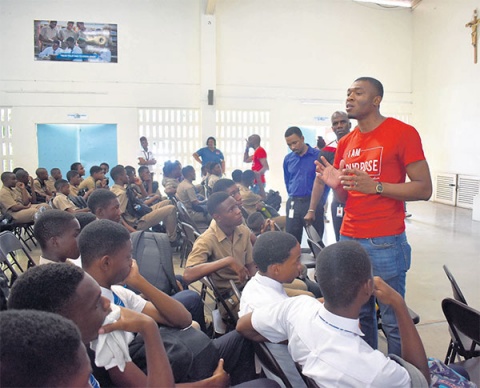 A member of the Rondell Positive Music team giving a meaningful message to some St George's College students.
It was a purpose-filled morning on Tuesday, October 1, when the Open to Purpose Tour team, led by Rondell Positive, visited St George's College. The morning got off to a healthy start, with lead sponsor Grace Food Drink providing breakfast shakes for the students, which included a mix of their four flavours – tropical strawberry, walnut caramel, butter almond, and smooth vanilla.
After breakfast, there was a powerful devotion led by Alicia Taylor, singer and Open to Purpose Tour leader. She ministered to the auditorium of students in reverence and was followed by motivational testimonies from other Open to Purpose team members.
After the performance of his hit song Come Against, gospel artiste Dunamis Reignz gave a touching testimony about how God has ignited purpose within his own life.
"It's a blessing being here. If I had something like this while I was going to school, maybe I wouldn't have fallen into the life that I did. Thank God I found, believed in, and followed the purpose that God put on my life. And that's why we're here today – to help the youths do the same."
Grace Foods regional sales manager and St George's old boy Denver McDonald was next, giving remarks from the Grace team. He was proud to return to his alma mater more than 20 years later to remind the children that "it's not about how you start but how you end". Today, McDonald controls one of the largest and most profitable regions in the GraceKennedy catalogue. He credits St George's College for the foundation it set in his life, helping him to achieve what he has today.
"It's so poignant that it's GraceKennedy coming here to speak to the children because GraceKennedy is about community, GraceKennedy is about family, and everyone here today is family. We're joined together as Jamaicans, and here as schoolmates, going through similar and shared experiences. It's not just about Grace Food Drink here today – it's about Grace coming on board to better the lives of Jamaicans, and that starts with the youth."
Next up, the main speaker and performer, Rondell Positive, spoke words of wisdom and affirmations over the students, instilling in them thoughts of belonging and reminding them that they each were created to fulfill their special purpose in life.
The aim of the tour, which will continue over the next few weeks across schools islandwide, is to share with the youth the fact that they are all born with a purpose and that as they will form part of the next generation of leaders in this country and the world, they must know that their existence is valuable and needed to create a better society.