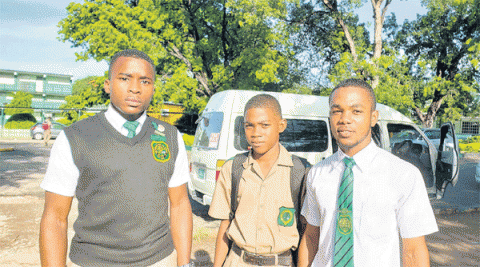 A group of Calabar High School's top-performing students, including the head boy (left).
ON SEPTEMBER 24, 2019, Youthlink and Seprod visited Calabar High School at 61 Red Hills Road for Youthlink's 'Made in Jamaica' initiative, and it was a memorable visit. The staff and students were happy, comfortable among themselves, and extremely welcoming. The compound was well-maintained, and one could feel the very strong sense of pride that everyone has for the school just upon entering the premises.
Most of the activity took place at the booth that was set up for Youthlink and Seprod Limited, which was founded over 75 years ago and continues to produce wholesome and healthy products for consumption. The students were excited to receive a free cornmeal porridge product from Seprod with the purchase of every publication. By the end of the day, all the porridge had been given away and many copies of Youthlink sold, making the day a great success.
"The porridge is very tasty!" stated Alex, a sixth-form student.
Stepping away from what was taking place at the booth, I was honoured to be escorted around the school by Alex and to be able to learn about some of the exceptional teachers and students at Calabar. There is, for example, Toussaint Robinson, who has attained 10 grade ones in CSEC exams and five CAPE subjects thus far. He also earned top regional placement in building technology and computer science. Toussaint has been on the Honour Roll for six straight years, is the badminton team co-captain, is a principal's Phoenix awardee, and is the recipient of multiple scholarships.
Similarly, Delmar Squire has attained eight grade ones at the CSEC level and three ones at the CAPE level. He is the top performer in sociology, chemistry, physics, and biology, and he is also listed on the Honour Roll. The greatness does not stop there; it continues with Garfield Wallace, who has attained eight CSEC subjects and five CAPE subjects. He is the top performer in geography and building mechanical technology, and he is a recipient of the Talawah Scholarship. Garfield is also the proud head boy, the student council president, the badminton team captain, president of the Debating Society, and valedictorian for the year 2019. These outstanding young men are just three among many others at the noble institution.