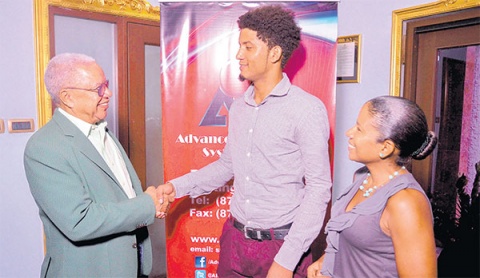 Chairman and CEO of Advanced Integrated Systems ( AIS) Douglas Halsall (left) congratulates UWI medical student Chanoye Lee on his receiving the AIS Education Scholarship Award. Looking on is COO of AIS Stacey Halsall-Peart. The handover took place at the AIS office, 7 Oxford Terrace, on Thursday, September 18.
CHANOYE NEICKA-JAE Lee, a student of York Castle High in St Ann has copped a $1m scholarship from local tech company Advanced Integrated Systems (AIS). He will attend medical school at The University of the West Indies, where the tuition will be fully paid by AIS. In addition, he is to receive a monthly stipend to assist with other day-to-day expenses at the school.
According to Douglas Halsall, chairman of AIS, the young recipient exuded great qualities not only academically, but he was very humble, even as he faced serious financial constraints.
"The AIS scholarship was also born out of my own experiences growing up and the recognition that, coming from humble beginnings, perhaps I would not have gotten to where I am now if I did not get that financial push from others to be able to complete my education and achieve my goals," explained Halsall.
"The achievement of higher education and the multitude of opportunities for further learning and advancement this opens up are immeasurable. The ability to change one's circumstances is a real and psychological benefit. The current scholarship recipient expressed his desire to discontinue the cycle of poverty that has had his family trapped for generations. Getting this scholarship is giving him the opportunity to do just that," added Halsall.
"We believe education is an important cornerstone of personal, community and country development. Many times, there are very smart and ambitious youngsters who simply cannot get an opportunity to grow because of their social and financial circumstances," noted Halsall.
The scholarship will be renewed each year until the student has completed his course of study, once he maintains a 3.5 grade point average (GPA).
The AIS Scholarship is usually advertised though websites, social media platforms and to tertiary institutions, with copies of the registration process, which is then transmitted to possible candidates. Students are selected for a scholarship if they have met the requirements needed and then called in for an interview with the committee; a final selection is then made based on the interview process.
Q&A with Chanoye
HOW DOES CHANOYE FEEL ABOUT BEING SELECTED FOR THIS SCHOLARSHIP?
This scholarship presents an opportunity at upward social mobility for my family, and, therefore, we are elated and extremely grateful for the opportunity.
WHAT IS YOUR STRATEGY TO ENSURE THAT YOU MAINTAIN THAT GPA THROUGHOUT YOUR COURSE?
Life is all about prioritising and sacrificing in an effort to strike that balance which enables effective living. University may constitute only facets of the whole, but the same principles apply; it is, indeed, a microcosm of 'full life'. Therefore, throughout my tenure I will strive to strike that balance between study time and the other areas encompassing holistic development.
WHY DID YOU CHOOSE THIS COURSE OF STUDY?
Through interactions with and arbitrary observation of individuals, I have developed an interest in how the human mind functions, enabling idiosyncratic traits and disorders. Studying medicine, psychiatry to be precise, will provide the requisite knowledge in understanding these behavioural patterns, thus providing a basis off of which advancements in diagnosis and treatment can be made.
WHAT DO YOU KNOW ABOUT AIS?
Advanced integrated systems (AIS), founded by CEO Doug Halsall, is the leading IT company in the health insurance and financial services industries. The company is currently behind the project to digitalize the UHWI [University Hospital of the West Indies]. AIS awards an outstanding academic performer that requires financial assistance with a scholarship, enabling that individual the chance to complete a chosen programme of study.
HOW HAS THE SCHOLARSHIP HELPED YOU?
The scholarship provides me not only with an opportunity at completing my degree programme, but also an opportunity to attain a better life for my family while making a tangible contribution to society.
IS THERE ANY CHARITY EVENT/ORGANISATION OF WHICH YOU'RE A PART?
I am a member of the Chancellor Hall Uplifting Brothers Society (CUBS). CUBS is geared at advancing our country and region through fostering capacity building, community service, outreach, advocacy, organising seminars and workshops appropriate to society's needs.
WHAT IS UNIQUE TO YOU THAT MOST PEOPLE ARE UNAWARE OF?
I'm not afraid of failure; failure does not faze me; I genuinely think it is an important part of any successful journey. I recently had the opportunity to hear, from a wise individual, a quote by Winston Churchill that resonated so much, totally encapsulating my mantra: "Success consists of going from failure to failure without loss of enthusiasm."
DESCRIBE YOUR PERSONALITY IN FIVE WORDS.
Ambitious, humble, realistic, helpful and resilient.
STATE ANY OTHER INTEREST OF YOURS, OUTSIDE OF MEDICINE.
I have a passion for riveting sports discussion (specifically cricket and football), Orville Higgins and Christopher Mathews are two favoured sports journalists. I would love to operate in a sport analyst capacity at some point in my life.