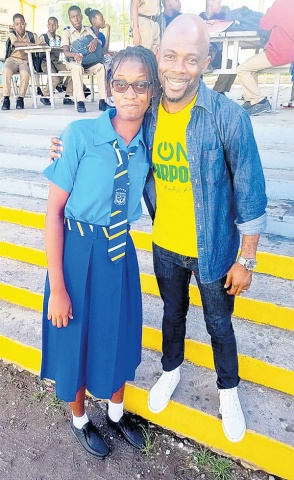 Rondell Positive poses with an upper-school student.
On September 23, 2019, Rondell Positive Music went to Papine High School to launch the fourth staging of the 'Open to Purpose' devotional school tour. This tour was launched for a number of reasons, but the main purpose was to assist the next generation in finding their purpose through Christ.
The Rondell Positive Music team went to Papine High with the intention to motivate, revitalise and instil a sense of being into the students, and that is exactly what they did. The day began with prayer, just as the previous stagings, and this is important as a connection with God plays a vital role in this tour. It is through God and self-evaluation that the students will find their purpose.
After prayer, there were many different performances and speeches by all the members of the Rondell Positive Music team, as the tour intends to positively impact the students through music, motivation and mentorship. The students were very responsive and interacted well with members of the team. This means that they took something away from the morning's events, no matter how small, and it will have a positive impact on them.
When the devotion ended, the Youthlink team sat down with Rondell Positive for an interview. He spoke of the national pledge and stated, "God revealed to me the true meaning of the national pledge. I said it for 39 years without ever understanding what it was. Society just made us stand at attention and say, 'Before God and all mankind', but we didn't realise that we were saying before God and every human being that was ever born, the universe, we pledge that Jamaica may, under God, play her part in not only advancing the welfare of Jamaica, but the over 7.5 billion people of the world."
This means that through purpose, the world can be a better place in terms of equality and the equal distribution of human resources, as everyone would have a vital role to play for the benefit of another. Rondell also emphasised the importance of Christ in the midst of all things, as it is upon building a relationship with God and knowing Him that one will find one's purpose.
Rondell also showed how culturally aware and patriotic he is. He said, "The purpose of this tour, for me, is to ensure than another generation does not miss what Jamaica is and who Jamaicans are, with the intent to advance the entire world, and we know this will happen!"
In light of all of this, however, the main question is, has this tour made an impact on the students of Papine High School? The answer is a definite yes. Youthlink strongly believes that this tour is steering the youth of Jamaica on to the right path for success by providing encouragement, inner peace and increasing self-worth, regardless of one's circumstances.
The day's events closed with a vote of thanks and giveaways by the tour's sponsors: Grace Food Drinks, Catherine's Peak Spring Water, Always, Frito-Lay, Victoria Mutual Foundation, OTP (Open To Purpose) and RPM (Rondell Positive Music).
This tour ran from September 16 to October 4, and touched the hearts and minds of over 18,000 students from 20 schools across Kingston, St Andrew, St Catherine, Portland and St Thomas.