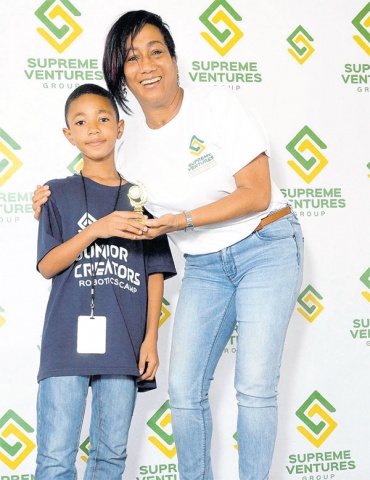 There are several quips and quotes about the determination of a 'man with a plan', and 11-year-old Clarendon resident Samuel Ellis was more than determined to ensure his plan of attending the Supreme Ventures Foundation (SVF) Junior Creators Robotics Camp was realised.
The diminutive sixth-grader, with a resolve almost three times his size, tried every means possible until he was accepted to attend the fourth staging of the camp that was hosted at Ardenne High School in St Andrew.
Serendipitously, Ellis had just passed his PEP exam and will attend the traditional high school come September. To add to his accolades, Ellis was also awarded the MVP award for the camp and a scholarship of $50,000 from the Supreme Ventures Foundation.
Ellis, whose favourite subjects include math, English and social studies, wrote a letter to Supreme Ventures with his request to attend the camp.
The letter delivered by his mother read:
"I attended Denbigh Primary School in Clarendon and passed my PEP exam for Ardenne High. I also got the top PEP Math Award in my whole school. I would really like to learn more about robotics, but we don't have these opportunities and classes in Clarendon. If you're wondering, my mother will carry me to Kingston because she works there. If you accept me, please accept my sister too. If you say yes, please tell my mother and she will let me know. Thank you for thinking about accepting me."
Samuel's mother, Roberta, carried the letter to Supreme Ventures' head office with great hopes for her son.
"I think his imagination is going to expand. I think he is going to recognise robotics as a career option. I think he may even, further down in high school, decide to pursue this a little bit more," she said.
"Samuel really wanted to be part of it [Junior Creators Camp] and he's the type of person to go for what he wants. He once wrote a letter to the editor to The Gleaner with his anti-crime plan for Jamaica; that's his style. Once he found out about Junior Creators, he wanted to send a letter. I was just the bearer of the letter."
Roberta commended her son for waking up as early as 5 o'clock every morning to make sure he was early for the 8 a.m. camp.
"I work in Kingston, so it as a no-brainer that I could actually take him in. We live in Four Paths, Clarendon, and it really takes a lot out of him to get up every morning, get ready and leave out by 6 a.m. He's always here before 8 a.m," she said.
Sam said his experience at the camp has been nothing short of amazing.
"Camp has been amazing. I met a lot of new friends. My favourite part was using programming to make the robots move," he said.
The Junior Creators Camp, which kicked off on August 19 and ended on August 23, focused on bringing the fun of robotic engineering, programming and coding to children from primary school, using Legos and other child-friendly devices. The camp also served to provide a creative environment for children to broaden their minds and impart the values of teamwork and respect.