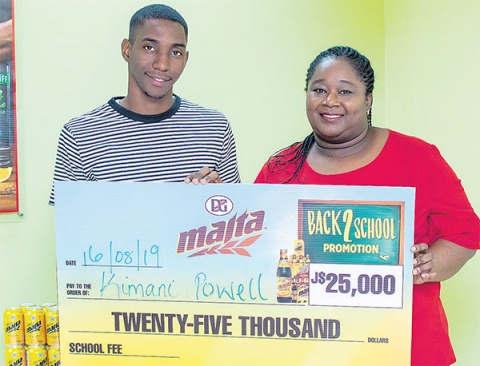 Kimani Powell (left) with Morven Richardson, business manager at Massy Distribution, representing Quaker, at the Malta 'Back 2 School' prize presentation.
If you're a 22-year-old man hailing from Jobs Lane in Spanish Town, with socio-economic realities working against you, odds are that you probably won't go to university. However, Kimani Powell has defied these odds and looked forward to going off to the University of Technology this September to pursue his dream of tertiary education.
A few years ago, as a student at Spanish Town High School, things were tight, so Kimani took odd jobs to help his parents send him to school. Later, the young St Catherine resident got a job helping to prepare and serve meals as a corporate soft-dining attendant. By 2015, he was sending himself to evening classes to meet the five CSEC subjects requirement to enter university. Limited resources resulted in him sitting two subjects in 2016 and three in 2018, after using the year in-between to save up enough money to pay for classes. His persistence and dedication paid off with passes in CSEC mathematics, English language, principles of accounts, principles of business and social studies.
Kimani has eagerly anticipated the start of the 2019-2020 academic year during which he will read for a bachelor of science degree in marketing, with a minor in economics.
"I consider myself a creative person and I have been fascinated by the world of marketing for a long time," he said. "With a minor in economics, I believe this will give me a greater understanding of the role I will one day have."
WORKING TO COVER TUITION
Regarding the challenges of attending university, Kimani said he plans to continue to pay his own way by working to cover tuition while attending school part-time. His college fund was also given a boost when he won $25,000 in Malta's 'Back 2 School' promotion, money he will use to buy much-needed school supplies and textbooks.
In the future, Kimani aspires to join the marketing department at Red Stripe after completing his programme.
"When you think of marketing options in Jamaica, I automatically think of Red Stripe. I have seen how effective their marketing has been. I would like the opportunity to not only work in corporate, but be part of a team that loves marketing as much as I perceive the Red Stripe team does and executes effectively," stated Powell.
Malta Junior Brand Manager Michelle Cunningham said the team is happy to have helped Powell through the competition. "Kimani's story is one of perseverance and determination, and we're happy to have played a small part in that," said Cunningham.
The Malta Back 2 School promotion awarded 13 winners each week with cash and other prizes to help to offset back-to-school expenses. Among the prizes in the promotion were book vouchers, laptops and tablets. Two persons had a chance of winning $500,000, courtesy of NCB Omni Educator, which would go towards tuition support at the tertiary level.