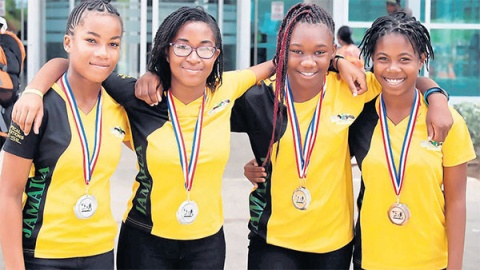 Celebrating their win are (from left) Tsenaye and Gianna Lewis of Wolmers High, Solesha Young of Alpha Academy, and Kelsey Davidson of St Jago High. Together they earned a silver in the under 15 category for Jamaica, while Solesha and Kelsey got a bronze in the doubles under-15.
Fourteen-year-old Gianna Lewis emerged winner of the women's open competition at the Kingston and St Andrew Table Tennis Association's (KSATTA) annual Women's Cup.
Her sister, Il-year-old Tsenaye Lewis, earned second place after the sisters faced off in a final for the first time. Tournament organiser Stephen 'Spoon' Grant, director of KSATTA, said that from his recollection, this may have been the first time that a 14-year-old is taking the women's open category of the competition.
Gianna also took first place in under- 15 and second place in the under-18 categories, while Tsenaye emerged winner of under- 18 and second in under- 13.
"This tournament shows my level of preparedness, and I was able to execute according to what I have been training to do," said Gianna.
In April, both girls were part of the Jamaican squad which competed in the Caribbean Regional Table Tennis Federation Junior Cadet Tournament in the Dominican Republic. Along with their teammates Kelsey Davidson and Solesha Young, they brought home silver in the under-15 team event, beating the formidable Puerto Rico girls' team. Together, they have represented Jamaica in regional tournaments held at home, Cuba and the Dominican Republic six times.
"This year so far has been going well because of the exposure and the experience I've had. It was good to have the opportunity to represent Jamaica in the Dom Rep as a cadet and to help my school win two titles in schools' competitions," Gianna said.
This has come on the heels of victory for their school, the Wolmer's Trust High School for Girls, when both Gianna and Tsenaye, along with Liana Campbell and with Gabrielle McQueen in reserve, won both the urban and all-island championship crowns in the 2019 Inter-Secondary School Association Table Tennis Championships held in March.
They are both members of the Skills Unlimited Table Tennis Academy, led by ITTF-certified coach Dale Parham, and train at school under Clive 'Sir G' Grossett. They also train aspart of Jamaica Table Tennis Association's programme which is led by Godfrey Lothian, president, and coached by both Dale Parham and the ITTFcertified Sandra Rettie.