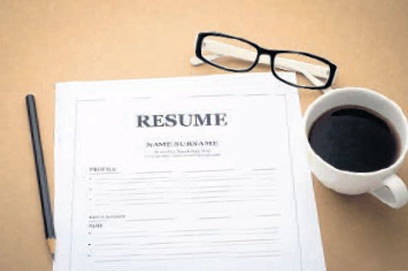 Whether you are applying for scholarships, internships or jobs, you are likely to be required to produce and share your résumé at some point in your life. Résumé are usually the first tools for representing yourself to a potential employer. So, it is important to get it right.
Writing a résumé is all about the story; your story, the story of your career.
RESUME ESSENTIALS
PROOFREAD YOUR RÉSUMÉ
Allowing someone else to read the content and assess the layout can prove extremely advantageous in constructing a résumé. Grammatical errors, misspelt words and improper organisation communicate volumes to hire managers.
BLANK SPACE
Align and balance the amount of white space (blank space) on your résumé. A balanced résumé makes good use of the page. This means its content does not appear too dense or too sparse. Hiring managers often glance at a résumé and begin to make judgements within 30 seconds. It is vital that the overall organisation and presentation also communicate your interests, potential and capabilities to the possibility of being chosen for the job.
ACTION VERBS
Lead your résumé experiences with action verbs. This must be used instead of personal pronouns ('I was responsible for …'). Action words state your role in past positions clearly and allow sentences to be more succinct. Examples: 'Created, organised, responsible and supervised'.
RÉSUMÉ FAILS
TEMPLATES
One of the most common mistakes people make when creating their résumé is using the same résumé template like everyone else. You won't stand out if you're using the same template as everyone else. Your résumé must be tailored to the modern aesthetics to catch the hiring manager's attention during those first 30 seconds.
UNPAID EXPERIENCE
Do not overlook unpaid experiences. Students tend to ignore unpaid experiences. For students who have little or no employment experience, it is beneficial to state volunteer activities along with clubs and other extracurricular activities. There are transferable skills students can learn from these unpaid experiences.
FORMAT
Instead of saving your résumé as a Word document, you should consider sending your resume as a PDF format.
QUANTIFY ACCOMPLISHMENTS
Don't be cliche and just list job duties. Instead, it's better to list accomplishments within the work experience. What results you achieved while on the job? Quantify your accomplishments. Clearly show what you have accomplished in your role in the company. It's not as important what you were responsible for as it is what you actually produced.
PERSONAL HOBBIES
Refrain from including personal hobbies on your résumé. Unless your personal interests align with the job in some capacity, then it's best to leave them out. The hiring managers don't necessarily need to know that you like watching Big Bang Theory (even though I do, too).
Remember, your résumé should represent you well. It should represent the qualities each employer wants for different positions. Tell the story with flair, with honesty, and the ending will be amazing.
KRISTOFFERSON NUNES | FOUNDER & CEO SUDEAN PETERS | WRITER
UCA JAMAICA (YOUTH MARKETING AGENCY ON A MISSION TO IMPROVE YOUTH EMPLOYMENT IN JAMAICA & ACROSS THE CARIBBEAN)
22 DUNROBIN AVE, KINGSTON
JAMAICA, W.I. | 876-287-1858
WWW.UCAMBASSADORS.COM