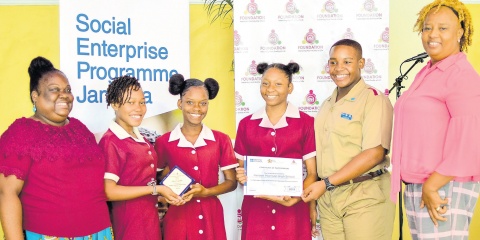 The British Council hosted a seed funding handover event earlier this month at the Terra Nova All-Suite Hotel for the eight schools that were added in phase two of the Social Enterprise in Secondary Schools Programme.
The three-year programme, a partnership with Victoria Mutual Foundation and the Ministry of Education, Youth and Information, seeks to address school-to-work transition gaps by teaching social enterprise concepts and skills. It will support students to develop skills that motivate them to consider entrepreneurial solutions to their employment concerns. The programme will empower the students to become agents of change, by using the concepts taught to them to develop social enterprises, with the support of Vitoria Mutual Foundation mentors and volunteers, in secondary schools and in their communities.
Using the British Council's Social Enterprise in Schools Resource Pack, which also incorporates the six British Council core skills, it is expected that this programme will help to address the gap in global skills development which is critical to meeting the needs of students in the 21st century in a globalised economy. In addition to the six core skills – critical thinking and problem-solving, collaboration and communication, creativity and imagination, citizenship, digital literacy, and student leadership – the programme has also included financial literacy as the seventh core skill.
Damion Campbell, social enterprise and youth engagement programme manager at the British Council, gave an overview of the programme and hailed the social enterprises and other agencies for their support of the programme. "The partnerships and networks we have built throughout this programme are critical to us achieving our goal. The Social Enterprise in Secondary Schools Programme affords a large population of our young people the opportunity to garner a more global outlook on the prospects of their lives as they transition through high school, while creating change in them and for those around them.
Campbell's sentiments were echoed by Naketa West, manager of the Victoria Mutual Foundation, who shared, "It is always impressive to see the talent of our young people on display. The ideas they've come up with and the innovation behind them are to be applauded. The opportunities they saw in the problems that existed around them is something we are proud of at the Victoria Mutual Foundation. As an added incentive, they are eager to give back to their communities and, by extension, their country. Their efforts should be commended."
The eight new schools – Cumberland High, Glenmuir High, Guy's Hill High, Herbert Morrison Technical, Holland High, St Jago High, Spot Valley High and Westwood High – were present at the event, which doubled as an award ceremony for the Social Enterprise in Secondary Schools Programme Competition opened to all 14 schools currently in the programme. Montego Bay High School took first place for best business idea, with Spot Valley High School and Cumberland High School claiming second and third place, respectively. The remaining schools were also awarded for participating in the competition.
Herbert Morrison High School won the award for the most scalable idea, which involves recycling newspaper to create vases. Guys Hill High School won the most innovative award for their social enterprise, which recycles fluorescent bulbs into the more energy-efficient light-emitting diode (LED) light bulbs using recycled materials. Westwood High School will be creating a greenhouse from plastic bottles, while Glenmuir High School will be using plastic bottles as plant holders for their wellness garden. Greater Portmore High School will delve into the fashion sphere with a T-shirt line that promotes positive thinking; and St Jago High School will focus on a line of bags developed from recycled materials. Capitalising on the resources they already have in the breadbasket parish, St Elizabeth Technical High School created the Patel de Hierba de Limon, or lemon grass cake, which they will be using to tantalise taste buds across Jamaica. This will be complemented by their T-shirt line that will focus on anti-bullying messages.
Olayinka Jacobs-Bonnick, country director at the British Council, encouraged the students to take full advantage of the opportunity to make the changes they want to see in their own lives. "You the young people who are a part of this programme, your accomplishments and your achievements are also a guiding light for young people like yourselves in other countries around the world. Think about the change you want to see in your home, your school and community. Think about what matters to you. These are the questions that will help you to think about how you can bring about change in your environment as you embark on your journey in this pioneering programme."