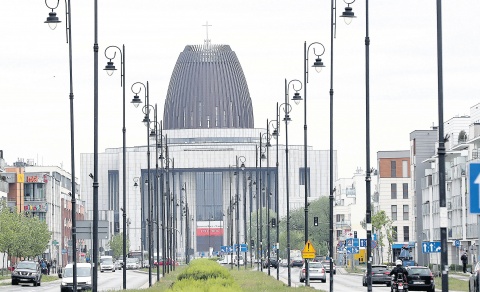 Cars drive on the street in front of the Temple of Divine Providence, a major church in Warsaw, Poland, on Monday, May 13. A new documentary about paedophiliac priests has deeply shaken Poland, one of Europe's most prominent Roman Catholic societies, eliciting an apology from the church hierarchy and prompting one priest to leave the clergy. AP
Dear Counsellor,
I am 18 years old and in my final year of sixth form. I am a devout Christian and an aspiring medical doctor. I am a youth leader and youth pastor in my church. I have applied to a medical training institution and have been accepted, pending the Unit Two CAPE results. I am not financially able to pay for medical school, so I have asked the church to assist me. My church family has said that I should forego the medical aspirations and go to theological college instead. They are willing to sponsor my theological tuition but not the medical dream. I am conflicted because I have the grades to get into medical school and this is my calling. I know that this is what I want to do. I am feeling down and have started to withdraw from an active role in church, as I feel that I am being forced into a career path where I will not be able to fulfil my purpose. How do I accomplish both dreams without sacrificing one or the other?
O.P.
Dear O.P.,
Congratulations on being 18 and focused on fulfilling your purpose! It is always so refreshing as a counsellor to find a young man who has his life plan so ordered. I hasten to also congratulate you on your youth ministry. In today's world, persons can take on many career paths and fulfil their purpose to their maximum, it is just a matter of refocusing and lots of time management. I can empathise with the church family they may perceive the choice to train as a theologian as both more financially feasible/manageable as well as spiritually beneficial to you and the community you would serve. I also hear you and can recognise how important being a doctor is to you. Have you considered doing both? There are medical doctors who travel the world offering medical as well as spiritual ministry to the persons they serve. It is quite possible.
The other option you have available to you is to seek sponsorship – from the university, pharmaceutical companies, medical institutions, the Ministry of Health, non-governmental organisations, trust funds, and banking institutions, just to name a few. I would suggest that you express this option to your church family and trust that they will be supportive of your aspiration to be a medical doctor. Our spiritual life and our career do not have to be mutually exclusive; both can coexist and there would be no conflict whatsoever. In fact, in your specific choice, it may even be a benefit. There is a well-known doctor who is a devout Christian and he is blessed with 'gifted hands'. I sincerely hope that you will be afforded the opportunity to fulfil both your medical and spiritual aspirations. All the best!
Dr Karelle Hylton PhD, Counselling Psychologist. karelle_hylton@yahoo.com.