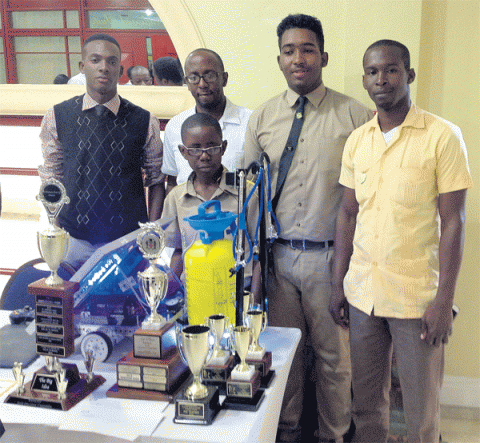 KATALYXT IS a division of Mint Management and Finance Services Limited with the responsibility of aiding the growth and development of small and medium-size enterprises in Jamaica. The long-term goal is to develop the Jamaican business community by identifying and training existing and prospective entrepreneurs in order to increase their chances of success.
This year marked the eighth staging of the annual Katalyxt Youth Innovators' Competition. Young innovators from third to sixth form are targeted for participation and the objectives of this competition include:
1. Engagement and development of an appetite for innovation.
2. Refocusing students to become job creators rather than job seekers.
3. Encouragement of students to find innovative ways of utilising Jamaica's natural resources to create products/services.
Students were drawn from science, business, information technology, and home economics clubs with a mandate to create and innovate. Students and advisers were organised into teams to represent their schools. Teams were invited to submit an innovative product or service which should have strong elements of originality and viability. Products and services submitted were judged based on creativity, as well the execution of product, marketability, and value added. Winsome Minott, team leader, encouraged students to strive for high ideals and use every waking minute to make a positive difference in their respective communities.
"Use each opportunity as a step on the path to your success," she said.
In this year's competition, judging categories were: the Big Idea Award, the Sustainability Award, Team Leader's Award, Top Teacher Award and the Businessman's Pick.
1. The Big Idea Prize was awarded to Vere Technical High School for a product that solved a significant daily problem for farmers, i.e., how to fertilise and irrigate farms using robotics.
2. The Sustainability Prize was awarded to Steer Town Academy agricultural carbon trapping system (ACTS) which comprises four segments: Genesis, Exodus, Nile, and Eden. This eco-friendly product traps atmospheric carbon dioxide into a solid state known as calcium carbonate. Calcium carbonate can be used to make organic pesticides, and carbon can be separated and reintroduced into the soil to increase productivity. This product can aid in the reduction of high atmospheric temperatures and contribute to sustainable development.
This year's competition had several of the nation's best high schools vying for the most innovative, original, business-ready product or service. The top 12 schools were:
• Ardenne High School
• Roger Clarke High School
• Steer Town Academy
• Cornwall College
• Edith Dalton James High School
• Spot Valley High School
• Vere Technical High School
• Immaculate Conception High School
• Hampton School
• Jamaica College
• William Knibb Memorial High School
• Guy's Hill High School
The announcement ceremony was held at The Knutsford Court Hotel on Thursday, May 9. Katalyxt team member Maureen Denton encouraged students to challenge themselves and never think that any task is impossible. She also encouraged the students to foster a spirit of giving back to society.
Guest speaker Audrey Budhi encouraged students to be fearless in their quest to stand out as innovators and change agents, while Damien Williams reminded students to use each failure as a new reason to succeed.
Conrad Valentine, representing the Minister of Education, challenged each participating school to become the best group of innovators.