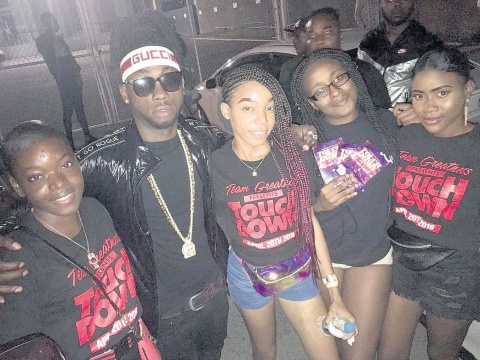 Stylo G (second left), the 'Touchdown Boss', poses with members of Team Greatness.
A GROUP of young people, connected by their attendance at Caribbean Secondary Education Certificate (CSEC) extra classes at Half-Way Tree Primary School, have fused passion with purpose in forming what they call 'Team Greatness'. The name says it all; these students are on the threshold of great things in life and are either attending university or gearing up to do so. Their organisation allows them to raise funds to assist with tuition through staging different events throughout the calendar year.
Leader Marcus Blackstock, who tutors the classes, explained. "The aim is to accumulate money over a period of time and whichever member we can assist from that fund, we will." He told Youthlink, "We want to raise $3 million between now and December."
Of the 20-member group, four persons are currently attending the University of Technology, one person is attending The Mico University College, another is attending the Caribbean Maritime University, and the other members are in their final year of high school.
Blackstock is the office manager at the Office of the Director of Public Prosecutions in Kingston. His part-time gig as a tutor of CSEC-level subjects allows him to hold on to his long-time passion for mentoring young people.
"I have been tutoring for the last 15-20 years," he said. "I was raised in Trench Town where the evening classes actually started but, because of the violence in the community, I had to shift to Half-Way Tree." According to him, "I used to do it free of cost, but everything comes with expenses so, after a while, I started to charge."
'TOUCHDOWN' ON FINANCING
On Saturday, April 20, in the midst of the highly anticipated Easter weekend – a delight for many young Jamaicans – the group staged 'Touchdown', their first attempt at fundraising on a micro level. The event was held at Police Officers' Club. The intention is to host a series of events that will follow in August and December, potentially.
Blackstock says the group has written to a number of corporate entities seeking assistance. "The first company to respond to us was Supreme Ventures and they want to meet with us to see how best they can assist us." He continued, "The minister of entertainment has also contacted us because we reached out to them."
Blackstock is adamant in pointing out that the group is not seeking cash but, rather, assistance in kind or any way the sponsor deems appropriate. He is also hopeful for the future of the organisation.
"The truth is, it's not a one-year thing, because they (the students) will go to college for three or four years," Blackstock said. "The aim is to build a fraternity where other students, over time, can also be assisted."
CREATIVE EXPRESSION
Team Greatness gives the students an opportunity to make creative decisions and profit from ideas that belong to them. "Young people are quite miserable and quite touchy because they are just learning stuff," Blackstock admitted. "We threw out different ideas and one person said that because the song 'Touchdown' is popular, we decided on that name for our first event." He continued, "Who knows? In August it might be called 'Grateful and Gifted.' It's not only through parties; we might do other stuff over time to raise funds."
In terms of the name 'Team Greatness', Blackstock's reasoning is simple – greatness is the aim, always, and in all things.
"The inspiration behind the name is to set a very high standard. We are not just putting on parties, we want to make a difference in young people," he said. "The minister of finance said something which had inspired us, which is that Jamaicans are not really into entrepreneurship. Here, we are saying that these are persons who, despite the fact that they want to go to school, they also want to be entrepreneurs."
Important for the group is an ability to give back in some way, and although they are only a couple months into official operations, Balckstock is already considering ways in which civic duty can be exercised.
"We wanted to do a homeless treat on Saturday, April 13, but because the KSAMC [Kingston and St Andrew Municipal Corporation] put out a thing in the media that you should not feed the homeless, we have had to revisit that."
The priority now is to register the organisation and continue to put structures in place to make the group official. For now, Team Greatness is already capitalising on the digital space and has even built a website. Check them out at www.team-greatness.org.