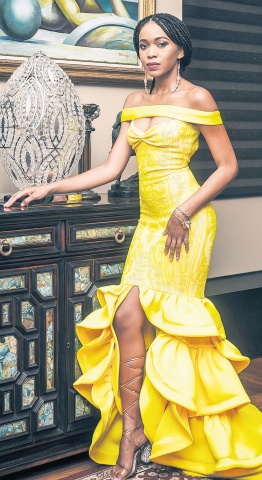 Uzuri's mermaid or trumpet gowns, as well as those gowns with a larger-than-life flare that meets the calves, tend to flaunt the curvy hourglass figures while it gives support to the busty females by clinging to the chest and torso. It is usually not suitable for apple- or pear-shaped ladies, only because it does nothing special for the shape. It works for tall and slim body types, but if you are too petite, it may leave you feeling too skinny or lacking in shape.
All that you set out to do for the final year of high school has been accomplished, and now it's time to prepare for graduation and the grand ball celebration. All of a sudden, searching for the right gown has taken the lead over everything else, so much so that the feed of your social media pages is showing more content related to make-up artists, dress designers, and also shopping for the ball. That's okay. The content displayed will only help the process of finding the one dress that will have every girl, including #GownGoals under your ball-night photos. The only thing that can ruin this trending moment for you is not knowing the correct style for your shape and size, whether you are slender and petite, apple- or pear-shaped, hourglass or heavy in the bust area. Not sure which body type best describes your figure, Youthlink has the answers right here.
1. PEAR-SHAPED
This body type is usually described as a female who is heavy on the lower half and smaller on top; easily identified by a small bust area and defined waistline that meets curvy hips or broad legs and a big bottom. The best dress styles for this female are those that accentuate the neck and bust with halter, V-neck, corsette and fitted bodice then ends in a flowing, flared or long princess-like seams.
2. APPLE-SHAPED
Not to be confused with an American apple or Jamaica's Otaheite, the female with an apple body usually has a short torso that does not always meet at a narrow waist; instead, it would be described as straight and in line with the shoulders. It is one of the female body types that can get away with wearing almost any design but would look best in a dress that has an embellished top, partially covered shoulders to draw attention to the upper body. High-low dresses are another top pick for this shape.
3. HOURGLASS
If you know what an hourglass is, it will be easy to visualise what this body type is like. The bust is usually proportionate to the hips and is typically voluminous or curvy.
4. BUSTY
Need we say more, 'busty' means the top half of the female is heavy usually B cups or greater sizes. The lower half can either be slender, curvy, or have a greater weight.
5. SLENDER AND PETITE
Both words are oftentimes used interchangeably but, in fact, the two similar body types can show very different characteristics. Slender usually defines the face, arms, waist and legs being slim or small, while petite can mean small, but having weight on the legs, average bust sizes, and heights below five feet five inches. Tea gowns or knee-length dresses are also suitable for petite females.
All gowns are courtesy of Uzuri International Designs Limited, located in Oracabessa, St Ann. Telephone: (876) 726-1905 or (876) 880-6638. Instagram: @uzuriinternational.
MODELS
Kajamba Fitz-Henley @kfitzhenley
Soyini Phillips @soyiniphillips
Danielle Lee @daniellee_dnr
Jessica Jeffrey @_jessijayemujc
Adrianna Bryan @exotichild_origins @adriannabryan.ja
PHOTOGRAPHERS
Akeim Revardo @revalmighty, @focusedmediaja Daniel Green
MAKE UP
Dawn Lindo @dmarieinstitute, @dawnlindo, www.dmariecosmetics.com
1-876-622-5005
LOCATION
Eden Gardens
39 Lady Musgrave Rd, Kingston 5
@edengardensja
VEHICLES PROVIDED BY
Nissan Jamaica @nissanjamaica
BMW Jamaica @bmw_jamaica
#PROMSHOPPE19
#YOUTHLINKPROM