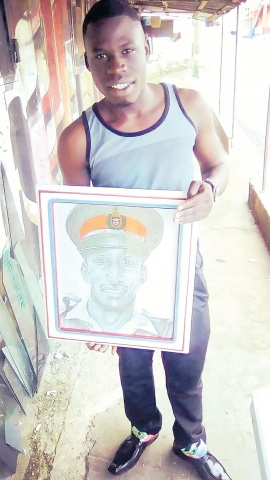 Painter Brandon Brady says it only takes him a day to complete a portrait.
AT 21 years old, Brandon Brady, a past student of Spalding High, is taking on the painting world one detail at a time. As far as memory allows him, his fascination with art has been ever present, and because of that, he is using his gift to send a message to some of his customers as his young business continues to grow.
The Kingston native has, if nothing else, faith.
"Nowadays, people tend to request portraits, although I still do a little commercial painting," he explained.
Now that his hobby has been transformed into a dependable income, Brady has developed a structure of payment that assists him to maintain his integrity in his work.
"How much I charge all depends on the material. I normally ask for half the money to get supplies," said Brandon.
He said starting out as a professional painter was, predictably, not easy, but he endured the teething pains nonetheless.
"At first, I used to do it for free. I just wanted to show that I could do something like that, and then persons started getting to know me," he said.
According to him, the advent of social media allows him to market his talent in newer ways every day, and it is a powerful tool for getting the word across his immediate sphere.
RISING STARS EXPERIENCE
"I went on Rising Stars, and that was my first appearance on national television," declared Brady, all too proud of the sweet moment that occurred some time ago. "I painted some portraits of the judges. One of the judges on All Together Sing knows me very well because I studied at Edna Manley for one year and a half. That's where he got to know me. I did a portrait for him, free of cost, and then he put me on to the Rising Stars judges."
Brandon appeared on television, presenting the portraits to the judges. This was, without question, a high point of his career. He said he has also reached out to TVJ to make an appearance on Smile Jamaica but to no avail.
ONCE UPON A PORTRAIT
Brandon has painted portraits of other public figures, including the late Ian Boyne – although he was denied the opportunity to present it to the family at the funeral – Konshens, Protoje, and others.
"I normally take one day to do a portrait," Brady said, noting that portraits normally cost $8,000.
What sets a portrait apart from just taking a regular shot of a person through the lens of a camera? According to Brady, "I find that the picture is just there, and anybody can snap a random picture. But knowing that you spend your time working on a portrait – the person really appreciates that. It's way more creative."
The Youthlink team was given the privilege of admiring scores of paintings by Brady, including a very detailed one of Floyd's Pelican Bar in St Elizabeth. At just a glance, the features in the painting are, distinct enough to warrant awe, and it is almost as though the piece has life in it.
"Pelican took me four months," Brady said. "I was going to high school at that time, and I had to focus. Yes, I can say it was challenging, but it wasn't my hardest. I sold it for approximately $30,000."
The talented young man said he would have liked to be a police officer if he wasn't painting.
"I would like to investigate stuff and put some criminals behind bars. Sometimes I'm on the road, and I see certain crazy driving, I say to myself, 'Sometimes how I wish I was a police officer!'"
For now, Brady continues to be the painter we know and love. He has also entered and won a number of art and poster competitions in Jamaica and overseas.
"There were also some discouraging moments that I faced while doing art, such as people not wanting to pay. I am also a musician and photographer, so I always have other talents," he said.
Brady is motivated by teachers Marcia Hayles-Dobbs and Patrick Drue Campbell. Find him on social media: @brandonbrady803 on Instagram, Brandon Brady on Facebook, and Brandon Brady Art on YouTube.