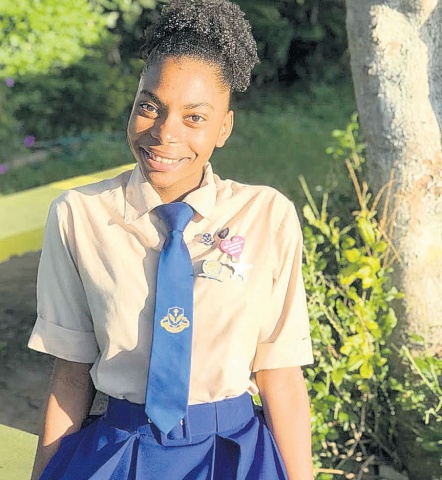 The Tension and anxiety had become so thick in the examination room that you could almost touch it. Yet, while one nervous and equally jittery youngster closed her eyes to whisper a prayer before the touchdown of the day's Caribbean Secondary Education Certificate (CSEC) paper, she hadn't just prayed for herself, she prayed for the roomful of classmates and associates, asking the Lord to lead them all through what may.
Gabrielle Burke does not like to be called a Christian, but her decision, two years ago, to give her life to the Lord has made the brilliant teenager a better human, to say the least.
"I grew up in the Catholic Church, but I was baptised at Mount Charles Baptist Church," she said. "I don't really like the term 'Christian', but I could be considered as one." It was only natural, then, that she considered her peers when she prayed before her exams.
Now a student at the prestigious Holy Childhood High School in Kingston, Burke grew up in the Lawrence Tavern community where she also attended the primary school there. She was involved in clubs and societies like Brownies and Girl Guides, but it was not until high school that she realised her true academic calling.
"I remember in grade seven I came first in my class and I was on the honour roll. Then, from grade eight I was considered a high achiever based on my average," she recalled.
Expectedly, the star student would go on to attain nine grade ones and a grade two at CSEC, an exemplary feat.
"My family was so proud of me. They always told me I could do it, so there was no surprise," she beamed.
SECRET INGREDIENT
"I wouldn't really say there's any secret," Burke said, shuffling through memory to decide what truly keeps her going – and going strong. "Work hard. Organise yourself, do what you have to do and keep God-centred at all times."
She is a member of the Inter-School Christian Fellowship (ISCF) and other clubs and committees, but it would seem that the biggest 'secret' behind her many sucesses, if any, is her firm belief in the power of prayer.
"It's like keeping a journal in some ways. Prayer helps you to organise your thoughts and show you where you are at. It gives you direction and a sense of peace," she told Youthlink.
GABRIELLE OF THE FUTURE
With such an awesome gift and a firm head on her shoulders, there is no denying that Gabrielle Burke's future will be one of endless success but until then, she's taking the time out to stop and smell the roses, unsure of where exactly she will end up, but certain she will make the right decision.
"I want to be a medical doctor," she declared."I am not sure what I would specialise in as yet. I am also very computer science-savvy, so I like software development or application development, and I am also looking at probably psychology."
Regardless of the course of study,the youngster is weighing the possibilities of studying locally or abroad, caught between both. She said, "I am leaving my options open, so maybe I will apply for some abroad and some locally."
DEFEATING PROCRASTINATION
Damaging to work ethic and productivity is the plague of procrastination, but for today, tomorrow and always, Gabrielle Burke is equipped to fight back against all odds.
"I remember my literature teacher told me that procrastination defeats time," she said."I know that sometimes when you have so much work to do, you don't feel like doing it, and it makes you want to procrastinate more. Divide the work and not look at it as a big task – that can help in reducing your procrastination.
"Just start," she advised, offering a word of advice to young people who may be faced with procrastination on a daily basis or more regularly. "Do it (the task) in 20 minutes, then for 25 minutes, and so on. Set objectives for that first 20 minutes and after that, wherever you are you just stop and take a 10-minute break."
As a sixth-form student, these words have to guide her more than ever especially with CAPE examinations fast approaching. "CAPE is not easy. I'm doing five units and it's the same amount of work as CSEC. Probably even a little bit more, but I think I'm managing," she said.
Irrespective of the circumstances, Gabrielle Burke is still going on, led firmly by her faith but guided by the words of Maya Angelou. "My philosophy is, 'If you don't like something, change it; and if you can't change it, change your attitude towards it,'" she said.