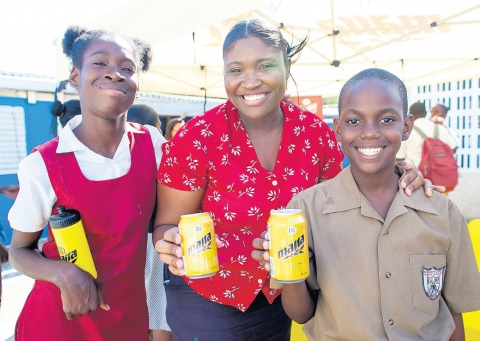 Smiles galore as (from left) Shenelle Wise shares a photo op with her teacher, Jeanneail Shields, and classmate Keon Harris at Malta's International Day of Happiness treat.
LIKE MANY other teenagers, Alishka Fletcher dreams of greatness. The 17-year-old student of the Randolph Lopez School of Hope is determined to become a culinary master despite her limitations. With a beam in her eyes and a broad grin, Fletcher shared the story of how she discovered her love for cooking. "My father is a chef and I want to be as good as him one day," said the young dreamer.
Fletcher attributes her cooking skills to the time spent in the kitchen with her dad preparing meals for the family. "I love making dinner with my daddy. Most times we cook together, but sometimes I cook by myself," she boasted.
Beyond enjoying time spent with her father learning a valuable skill, the pride and confidence with which the teenager speaks indicate the love she has for her father, who is obviously her role model as well.
"Young people like Alishka have so much promise, but without the love and support of their parents they can't realise their dreams," said Davia Moore-Gordon, principal of the Randolph Lopez School of Hope. "Parents and families must protect the dreams of children with learning disabilities amid the obvious barriers. The heights of success can be attained through self-belief and encouragement from others who share in the vision."
Moore-Gordon explained that the school does its very best to facilitate the students' impending departure into the adult world. "Prior to graduation, our students embark on a three-week work experience, where some students have gained employment or are recommended to enrol in HEART programmes based on their individual capabilities."
She firmly believes that these students can integrate into the workforce, but accepts that finding where their competencies lie may be a challenge. However, this was not the case with Fletcher.
According to her teachers, she has proven herself to be an outstanding student in home economics, where she is given the chance to flaunt her cooking skills. Captivated by the techniques of the culinary arts, Fletcher shares her love for cooking with her schoolmates by assisting them in class when she is able to do so. In fact, she has even indicated a willingness to return after graduation to help students in their practical home economics assignments.
INTERNATIONAL DAY OF HAPPINESS TREAT
Fletcher shared her career aspirations at school during an International Happiness Day treat on March 20, where students got a chance to relax and share in a fun environment. The school population spent the afternoon being fêted by Malta and Tutti Frutti, while enjoying face-painting, unlimited treats and high-energy music spun by DJ Shuggz.
Moore-Gordon thanked both brands for making International Day of Happiness a memorable one for the children. "A number of our students are not exposed to Malta and Tutti Frutti, so they were extremely elated to try something new today," she explained. Teachers also discovered their inner child as they participated in the day's activities, allowing their students to see them outside of the usual classroom context. Malta donated 40 cases of product to the school before wrapping up the day's activities.