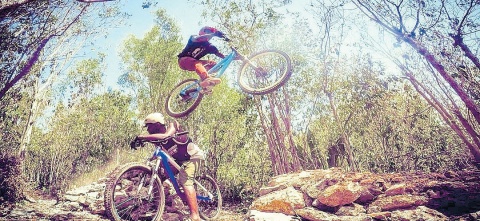 Richard 'Awire' Lecky, caught in mid-air performing a stunt alongside 5150 Trails co founder Nature Boy.
RICHARD 'AWIRE' Lecky wants to get 5,150 Jamaicans involved in the sport of mountain biking, and if ever you should ask just why that specific number, he'll say, "It's a crazy idea."
The owner of 5150 Trails, Lecky's business name is derived from the police code of the same sequence which actually means 'crazy'. His intentions are to simply create an experience for mountain bikers of all abilities and to spread the word about mountain biking.
"If you want to come and ride, I would provide you with a bike, gears and a place to ride," he told Youthlink.
The day's activities generally cost $5,000, inclusive of food which is prepared on site at the camp set up by Lecky and his team, providing the full outdoor experience.
He explained, "We have several locations across Jamaica that we go to. Some days we go to Portmore, Blue Mountain or Jacks Hill, and we do a little camp there."
BEGINNERS WELCOME
Some may classify mountain biking as an extreme sport marred by rocky terrain and dangerous stunts, but, given his wealth of experience in the area, Lecky is confident that he can work with riders at any level, even beginners. He affirmed, "For the stunting aspect of it, that's for me as a professional rider. If you want to ride, my services mostly entail fitness and bike control."
He said, "If you want to become a rider and ride on any terrain, that's also when you come to me, and I will take you to a location that's geared towards your skill, from beginner to expert."
The business, having been in operation for less than a year, has had to learn about its clientele and meet their demands. Lecky admitted, "When we just started, some of the trails were geared towards professional riders or experienced riders, but a lot more people started coming in, wanting to ride, and the courses would normally scare them. So we started finding trails where once you can balance on a bicycle, you can ride on these trails."
AWARENESS FOR THE SPORT
For seven years of his life, Lecky was a professional BMX bike rider. He later moved to Japan, where he got injured. "When I got injured, I couldn't ride the BMX bike anymore because I couldn't stand," he said. "Once I got out into nature (on mountain bikes), it was a completely different vibe."
Lecky has also had some awakenings due to his world travels. "I live in Tokyo and I live in Kingston as well," he said. "I realised in Japan that what we have in abundance in Jamaica, people are paying heftily worldwide to enjoy. I'm at a point in my life where I'm focusing more on my health, and it's just the vibe of being in nature and being able to create something and use it at the same time."
Lecky hopes to create more mountain bike enthusiasts like himself and to garner more love and passion for riding. "I don't mean just straight riding," he clarified. "I mean riding, building trails and getting involved."
He feels the greatest challenge to the sport is the expense of the bikes and their inaccessibility to Jamaicans, which is, essentially, the premise of 5150 Trails – making mountain biking accessible to every Jamaican.
"Mountain bikes are expensive; the average Jamaican cannot afford a mountain bike," he said. "Therefore, the average Jamaican will not have the opportunity to become a mountain biker or to even have the experience of mountain biking. We're trying to develop the sport in Jamaica by going around and building random trails. We provide bikes and trails and coaching skills."
Lecky's formula is simple: "If you like it, you will constantly come back, then we try to get you your own bike."
Contact Lecky at 876-497-6810. Find 5150 Projects on Instagram @5150trailsja or on Facebook at 5150 Mountain Bike and Foot Trail.