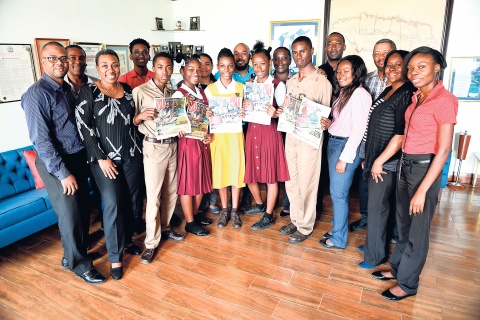 Guests felt appreciated by The Gleaner for inviting them to the Youthlink brainstorming session and are looking forward to seeing the changes in the September product. Front row (from left): Robert Hart, Nadine Quest, Jordane Smith, Chadai Martin, Tameika Campbell, Tashante Lindsay, Broderick Smith, Bryony Bonnick, Nadine Smith-Williams, and Felicia Stephens. Back Row (from left): Wayne Chambers, Richard Hines, Carmelita Boothe Benderson, Kareem LaTouche, Latoya Brown Williamson, Burchell Gibson, and Reginald Campbell.
In A bid to continually improve Youthlink, a publication that caters to high-school students, The Gleaner invited several highschool students and administrative personnels for a meeting about the product. "We wanted to do this for some time now, because we value the readers of our magazine. So naturally, we were excited to hear their views about what we are doing right and what we need to improve," stated Kareem LaTouche, Youthlink coordinator.
The brainstorming session, which was chaired by Burchell Gibson, circulation manager, got under way quickly, with everyone introducing themselves and then expressing their concerns. "There are a lot of schools that
support the product and we want them to know that we welcome their ideas, especially before we make changes to the product," Gibson emphasised.
Though some were a bit apprehensive at first, all the students gradually gave their input as the Gleaner team encouraged them to express themselves. "They are the ones that make Youthlink special. The articles that we publish represent their interests and well-being, so we had to let them know that there is no such thing as a stupid idea," stated LaTouche.
Once all the students felt comfortable to state their opinion, an avalanche of ideas came crashing down, with many students voicing their interest in seeing more pictures as well as information on upcoming artistes. "We really like seeing our friends in the paper, especially when we have big events like pageants, it makes the paper very interesting and fun," Chadai Martin, a student of Kellits High School.
The Youthlink was also commended for its groundbreaking series, Above it All, which was a resounding favourite by all in attendance. "The girls loved these stories, especially when Abigail, who suffers from kidney disease, was featured; the paper was sold off that day," stated Nadeen Quest, Youthlink sales coordinator, Holy Childhood High School.
The series focused on teens that were living with a disease or going through extenuating circumstances and were doing well in school.
The students at the meeting expressed that the stories were relatable and as such, they enjoyed reading them.
Discussing the series also prompted many students to request a counsellor's section in the Youthlink, given the many issues teens are facing. "There are a lot of things, like peer pressure, which are affecting us and sometimes it is hard for us to make the right decision," said Broderick Smith, a student of Spalding High School.
In the end, all the invitees felt satisfied and eager to see what the Youthlink will be offering when it is back in high schools in September. "I am expecting all the great ideas that were shared today to be incorporated in the product, and our teens will gravitate to it and be pleased with the end product," stated Carmelita Boothe Benderson, Youthlink sales coordinator at Excelsior High School.