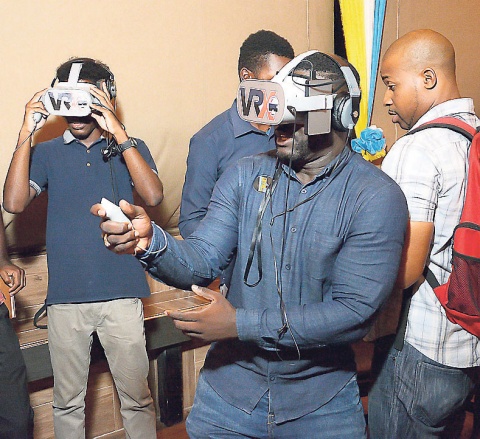 Youth across Jamaica began their month-long campaign to 'level up' at the launch of National Youth Month on Friday, November 2, at the newly opened Ocean Seven Lounge at Victoria Pier in downtown Kingston.
The event began at 5 p.m. with scores of energized youth, and "highlighted the numerous opportunities that the Ministry of Education, Youth and Information has coordinated to ensure that all Jamaican youth can have access to 'level up' their academics, community involvement, skill development and entrepreneurial efforts", said State Minister Floyd Green. A realistic, three-dimensional, stimulated environment was created by Virtual Reality Jamaica, while Endevorous Dancers gave officials and youth participants a lesson on levelling up in the dance world. Shane-O's performance was a real-life example of how youth can revamp and level up in their career.
Blessings were sought for the entire month of events at the National Youth Month Church Service that was held at the New Testament Church of God in Portland on Sunday, November 4.
The annually anticipated National Youth Parliament on Monday, November 12, proved a vibrant start to the second week of activities at Gordon House, while the annual general meeting of the National Youth Council was held on International Students' Day, recently, at DeCarteret College in Manchester.
A continuation of the Round Table Talks that was introduced last year, will be a weekly feature throughout this month. These Round Table Talks are hosted by established entrepreneurs in each parish, who provide guidance to a select group of young persons who either have an interest in, or have already started to explore entrepreneurial ventures.
The premier youth awards ceremony, the Prime Minister's Youth Awards for Excellence, will take place on Saturday, November 24, on the lawns of Jamaica House. One hundred and forty-two youth across Jamaica have been nominated and 54 candidates have been shortlisted in the 11 categories. This year's Nation Builder category, which celebrates the work of young people in community volunteerism and development, has seen 60 youth being nominated and 44 being shortlisted. Interviews for the shortlisted nominees started on October 31 to ascertain who will be included in the 2018 cohort of awardees.
The Marching Band Expo/Community Youth Sports Day will be held in St Elizabeth on Sunday, November 25, and the Health and Wellness Exposition will close out the month of activities in Hanover on November 30.
All Youth Month activities are spearheaded by the Youth Division of the Ministry of Education, Youth and Information and the HEART Trust/NTA.