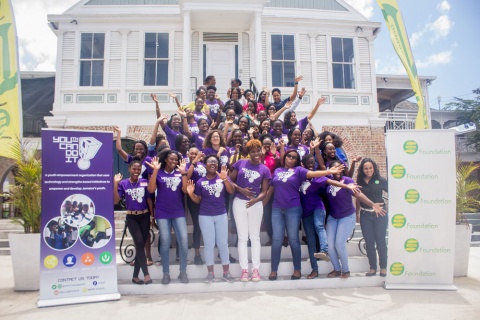 This was a separate event held on Girls in ICT Day. It is a one-year mentoring pilot programme that aims to expose girls to the most versatile and fastest-growing industry in the world. To equip and educate them with technical skills sets to become employable, innovative and creative change agents to problems that they see and are faced with; and, to empower them to take a more active approach to their goals and dreams.
 
Seven exceptional female ICT professionals from Digicel are among the over 30 mentors who have signed for 1-year mentorship of the young women who are mainly from high schools and universities. Below is a testimonial from one of the Digicel ICT professionals from her first meeting with her mentee at the event, Juleen Gentles, second-year Computer Engineering student at the University of Technology.
 
 The relevant photos are a group shot of all the participants and sponsors, Seprod Foundation. 
The other photo involves Partrice Johnson, Head of Group Business Solutions and Managed Services, Digicel Group, sharing valuable life lessons while getting to know her new mentee, Juleen Gentles, second-year Computer Engineering student at the University of Technology. Both met at the launch of the Youth Can Do I.T one-year mentoring programme sponsored by the Seprod Foundation. Johnson is among seven Digicel IT professionals who joined other female professionals that have signed up to mentor young women from high schools and universities who are aspiring to pursue careers in the IT sector. The 21-year old Gentles is among the over 30 mentees who have each been assigned a mentor.
 
"My mentee is Juleen Gentles  and within  the short space of time  that I had the distinct pleasure of meeting her, I already knew that, by God's grace, she is  poised for greatness. It amazed me to see how much she was so focused and full of exuberance for achievement  at her tender age. We have a lot to learn from each other and I look forward to a memorable experience.
 
My interest in YCDIT was sparked when I was approached by Paula Pannuzzo about possibly participating in the programme of which she is a facilitator. My  passion was ignited  having participated in  the Digicel's  WILL (Women in Leadership Learning)  Power Training in 2016. I was more than happy to answer the call as I am a strong advocate for the development of young people especially females,  seeing that  IT has been a male dominant field for centuries. It took  a long time before I knew what I wanted to do in life. Luckily, I had a brother who steered me in the right direction.  In my  earlier career I experienced  many struggles and it's because of those hardships  encountered  that the course of my succession was forged. 
 
My desire is to prepare my mentee for the world at-large. The tools you need in life aren't all taught in schools – they come mainly through experience. I want to give my mentee the ability to create herself by believing, encouraging and getting feedback; to  impart knowledge and provide opportunities for her to unlock her potential for maximum performance. Outside of assisting with developing Juleen's career skills, I want to know HER as a person in terms of  goals, dreams, and aspirations. What makes her happy and what makes her sad, so that I can be that shoulder for her to lean on.  Most of all, I want to learn from her. It will help to improve my skills  as a coach and a mother.
 
In my current portfolio my greatest pride and joy is taking a new recruit and watching them grow and develop into stars. It warms my heart to know that I contributed to  their progress, of which I could not have achieved without proper coaching. Experiences like these have helped to shape  my personal development as a leader." – Partrice Johnson, Head of Group Business Solutions and Managed Services, Digicel Group.