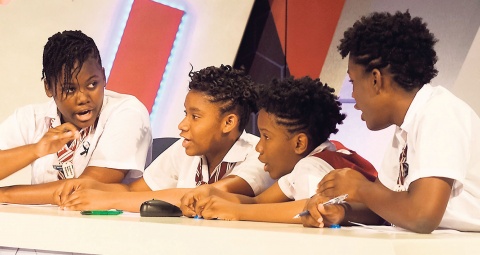 Members of Maggotty High School quiz team in action against Wolmer's Boys' School on January 17. Team members (from left): Kimberly Robinson, Luanor Swaby, Tiana Smith, and Shantoy Campbell.
Number eight seed Wolmer's Boys' from Kingston were probably the favorite going into the match, but number 57-seed Maggotty High was a formidable foe and kept Wolmer's on their heels from the beginning of the match.
Before the match started, the ladies of Maggotty High School were bubbly and cheerful, and their coach Ryan Brown helped, as he was the team's cheerleader, creating a relaxing atmosphere for the team. The young men of Wolmer's Boys' School were the total opposite, as they sat quietly and were focused on the task at hand.
The Opening Challenge saw both teams getting their first question incorrectly but afterwards, the teams seemed evenly match. The alternative section ended with Wolmer's Boys' on six and Maggotty High School one up, at seven points.
It was during the Speed Challenge that the match started to become heated as for majority of the round, the teams were neck and neck; one team never allowing the other to get too far, and trying to get in their answers before the bell sounded. The match was of high intensity and you could hear a pin drop when a question was being asked. resounding 'good' from the Wolmer's supporters when the answer was correct, or 'yes' from the Maggotty supporters when the same happened. It was evident that both teams wanted the win desperately and were not going to make it easier on their opponents.
Initially, the round ended with 30-28 in favour of Wolmer's Boys', but queries were made and both teams lost a point. Wolmer's Boys gained another, while Maggotty High School gained two points. The score then changed – Wolmer's Boys 31 and Maggotty High School 29, but Maggotty was not fazed as the deciding Buzzer Challenge was next.
This segment had the host, Jean-Paul Menou, calling Wolmer's and Maggotty alternately after each question. They were both fast on the buzzers and it ping-ponged from one team to the next, with points increasing and decreasing until the final bell of the match, where there was a tie at 37 points.
As a tie-breaker, a Spanish question was given and Maggotty got it correctly. Maggotty moves on to the second round of the competition, where they will play St George's College.