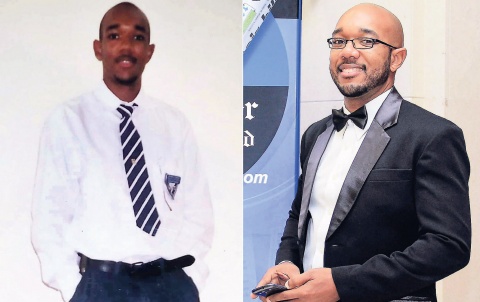 A young Kareem LaTouche(Left).Youthlink coordinator Kareem LaTouche(Right)
After leaving Jessie Ripoll Primary, where I was taught by my Aunt Lorna, who you could never tell was related to me by the way she caned me, high school seemed like this grand stage. The first time I walked on to Jamaica College's grounds, I felt intimidated by its sheer size. Being at a school on more than 10 acres of land was nothing I had experienced in my 12 years of living.
At that time, the school was predominantly known for track and field and the student population had long shifted from soley upper class to a mixed cohort that reflected the rise of the lower- and middle income homes. All facets of society were present, which made it a microcosm of the wider Jamaica.
There were students who were sons of politicians, entertainers, scholars, alleged drug dealer and area dons. We had it all and learning to survive was integral. That mother figure from primary school, who would hug you and rub your head when something went wrong, was no longer available to you. Now, crying or showing vulnerability was seen as a sign of weakness; it was something you expressed behind closed doors, not in public.
One of my first-form classmates, Dwayne, made the mistake of shedding tears because he was being teased, while in transit to another class. Unbeknownst to him, we were being watched by the preying eyes of some upperschool students who seized the opportunity to pounce on us. Of course, we all ran, but it didn't matter, they wanted Dwayne. Lifting him by his arms, they marched him to a 20-foot tree that had oozing sap and was affectionately called 'Puncie'. There, he was ordered to do the 'Dolla Wine' against the goo.
Watching in amazement from far off, we all giggled, and when he returned to the group with a crotch-stained blue pants, and with even more tears, we consoled him with lies. One of my friend's said, "Bwoy Dwayne, if it was me dem ketch, I wouldn't do it."
Truth is, all this was a reflection of how to spot danger, control emotions and how to pick your battles. It was the things that no curriculum could teach. Over time, survival became instinctive and we were the senior students.
As for ragging, there were cases where it had gone too far and the administration started to really clamp down on it. Plus, the first-formers became really fast runners and it was just not worth the hassle anymore.
KEEPING FOCUSED ON ACADEMICS
There was also the added pressure of performing well academically, which the old boys, who would visit often, emphasised whenever they spoke to us. As for me, my relationships with a few teachers started to grow stronger as I tried to improve my grades to make my mother proud.
Several months before I was to do my CXC English exam, I was a bit doubtful about my story-writing skills, so I asked my history teacher, Vivienne Grant, for assistance. I knew she had a hectic schedule, teaching four to five classes per day, but she was a passionate teacher and I trusted her feedback. Not one to turn down an ambitious student, she agreed – under the condition that I presented my stories to her three mornings of the week at 6:30 a.m. By 7 a.m. she would return the paper, which was filled with comments and suggestions that made it look like a colouring book.
When I was preparing for my general paper A level exam in sixth form, she invited me and a few other students to her house on Sundays. We would read our essays to her while she was ironing and cooking and she would make corrections verbally. When her pot was finished cooking, she would share the 'curry chicken and dumpling', to our delight. She did all this without ever asking for or receiving payment.
This was my JC culture; one that was mixed with street knowledge, academic support and good friendships.