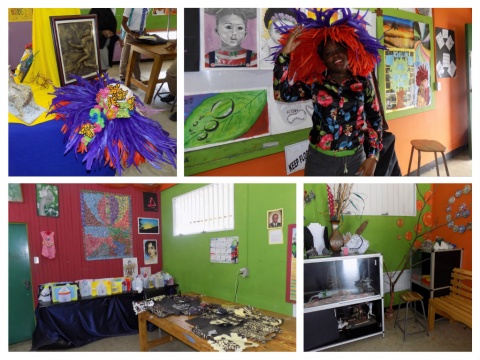 Troy High's Art Department and Art teacher
Opening its doors to 260 students in 2007 in the Southern Trelawny community of Troy, Troy High is the young institution making mature moves, existing as a complete oasis for student engagement and involvement.
A Youthlink team visited the ten-year-old institution and although the journey down was a lengthy one, it seems what those mountains of the Cockpit Country hide within them is truly a gem.  At first encounter, the school grounds appear well-maintained and the school's embracement of its pupils is easily noted with the main walkway decorated by the school's 'Walk of Fame' - a picture display of honour students. 
With a capacity of 900 students, the staff/student relationship is obviously close-knit at Troy High and allows for learning on the individual level.  Our tour guide for the day, Vice Principal Alliah Chambers-Green explained, "It's a more intimate setting; because we're smaller in comparison to larger schools it allows us to be more knowledgeable of the individual student - their strengths, weaknesses and needs. We seek to find where their strengths lie, whether they're stronger in academics or in skilled areas or if they're artistic and wherever the strength is we provide the opportunity for them to maximise on that potential."
Around campus we visited the Art Department where award-winning twin brothers Rickey and Richie were toiling away on their new clothing line. In the Library, some students read books while others were tucked away in the air-conditioned comfort of the Computer Room, browsing the internet in their break. 
Notable, too, was the Guidance Department where the Wellness Centre stocked almost every essential item a teenager could need ranging from soaps to deodorants and tissue. Guidance Counsellor Melody Smith explained, "We recognised that there was a need for us to provide various self-care items for our students who were needing such care and protection. Therefore, we sought donations from different agencies and based on our needs assessment we would have identified the student who would be experiencing such challenges and have it here for them."
For many, ten years might not be very long but for Troy High, this was the length of time it took to produce bright, productive graduates and continually encourage student population. Principal Eddie Whyte told Youthlink, "It has been a great ride. We have children sitting ten and eleven subjects and doing extremely well. If I should give you just a quick success story of a boy - Brian White - who graduated in June, he came to Troy High reading at grade 2 level and in five years he sat seven CSEC subjects and failed only one. He was also the only boy to get a distinction in Mathematics."
He admitted, however, that like other institutions Troy High has its challenges. "One of the greatest challenges we have been facing over the years is that of transportation. We have children coming from Christiana and Balacava and these communities are geographically far from Troy. We want to purchase a school bus, we believe that if we were to get that school bus it could help us greatly in alleviating these issues so if there are any Corporate bodies out there that want to come on board and help us we want, by God's grace, to unveil our school bus by June 22, 2018."