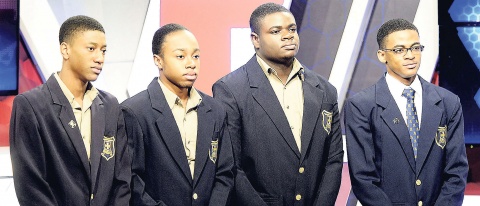 Members of the Titchfield High School team.
The first match in the 50th season of TVJ's Schools' Challenge Quiz saw the number-one seeded Titchfield High School moving on to the second round of the competition after beating 64th-seeded Enid Bennett High School, scoring 41 to 25.
The evening started with the 'Opening Challenge', where questions were asked alternately to each team. Enid Bennett won the toss and decided to face the first question of the match. At the end of the first segment, both teams seemed evenly matched as the first challenge had both teams neck and neck on 10 points.
The 'Speed Challenge' followed, where each team was given three separate minutes each to answer as many questions as possible. It is during this round of the match that Titchfield showed why they are the number one school in the competition. They pulled ahead drastically, and ended the round on 36 to Enid Bennett High School's 24 points. During the break, however, queries were done on both sides and each team gained one point. The official score going into the 'Buzzer Challenge' were Titchfield High School on 37 and Enid Bennett High School on 25.
Both teams were hungry for the win, but only one made it happen. Titichfield High School dominated the buzzer round and ended on 41 points, while Enid Bennett High School remained on 25 points. Titchfield will go on to play the winner of match two, which features Excelsior High and Holy Childhood High.
Chase Roberts, one of the coaches for Titchfield High School, said, "We are taking it one step at a time and working through the rounds." He further stated that the plan is to go home and prepare for round two of the competition.
Enid Bennett High School's coach, Conrad Whyte, shared with Youthlink that it is the second time that the school is entering the competition and this loss will not deter them. "The plan now is to go back to school, take a month's break, and start preparations again."