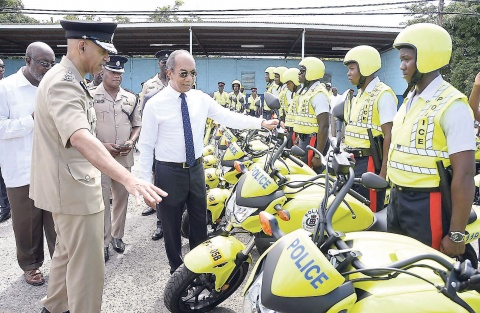 Commissioner of Police Major General Antony Anderson (left) introduces members of the newly formed Public Safety and Traffic Enforcement Branch (PSTEB) to Dr Horace Chang (centre), minister of national security; Fitz Jackson (second left), opposition spokesman on national security; and Calvin Allen, Senior Superintendent of Police. Occasion was launch of the PSTEB at Harmon Barracks in Kingston.
Dear Counsellor,
I am a 13-year-old girl and I am concerned about my safety. I live in a community where there are no lights on the streets, and people are not very nice to each other. I see in the news how the little children are being killed and going missing, and I am worried that it will happen to me. I am not doing my best in school because I am stressed out. Almost every night, something bad happens on the news. I feel like Jamaica is not a safe place for children. I do not want this feeling to affect me. Can you help?
GK
Dear GK,
I read your letter and I can walk with you and relate to your fears. In our society today, we are seeing an increase in violence against our most vulnerable – our children. As a child yourself, I can understand the fears you have shared and how it may affect you – emotionally, socially and academically. The fears you have can become stressful if you are not informed or have a plan or strategy to feel safe. Stress can be harmful and prevent you from working at your best. Although the new reports are 'bad', they serve a purpose as they provide us with information, which can help us to better protect ourselves and our loved ones. If communities come together and speak up against criminal acts, we may be just 'win' this fight against crime. Some communities have formed neighbourhood watch groups with the assistance of the local police.
Some strategies to safety
• GK, you did not state where you live; however, every parish in Jamaica has a municipal corporation that has the responsibility to provide street light services to ALL communities. Become an advocate. You may seek assistance from the other young people and persons living in your community – have them sign a petition or request for street lights in your community (state clearly your reasons) and present this to the chief executive officer in your parish. Get your parents and local businesses involved. When there is a community meeting, ask the chairperson permission to share your fears, and seek their support on this project.
• You may also have your councillor make representation on your behalf about the need for street lights in your community.
If there is a need for bushing in your community, you may encourage all the parents, adults and community members to have a workday, where they do the cutting and clearing of the areas that need this service. You can remind the adults that "it takes a village to raise a child" and also to keep children safe.
• Communicate with your parents or guardians. Let them know where you are, when you leave school, what vehicle you are on, etc.
• If possible, have your parents arrange for private transportation to and from school
• Walk in groups. Make friends with other children who live in your community. There is always safety in numbers.
• Be aware of strangers. Do NOT 'bum rides' from strangers.
• Avoid writing your name on the outside of your bag, persons will use your name to suggest they know you, or people you know, in order for them to get close to you.
• Have a security word that is used by only persons allowed to pick you up from school.
• Go straight home. Do not loiter on plazas, on the roadside in internet cafes, stores or shops.
• Scream out loudly if you are in danger. People respond quicker to screams of RAPE! FIRE! MURDER!
• If possible, use your feet. RUN away as quickly as you can.
• Be careful about the information you provide on social media.
• Arranging meetings with persons you meet on social media is a definite NO!
• Be aware of your surroundings. Remove earphones while walking on the street. Walk briskly and purposefully to your destination.
• Have a whistle to attract attention if your feel threatened or in danger.
• Avoid lonely shortcuts, dark alleys or lanes.                                                                                                                                                                                                                                                      • Where possible, have a parent or responsible adult meet you and accompany you home.
It is my sincerest hope that you will have the street lights put in your community and that the strategies suggested will help to keep you safe.
Dr Karelle Hytlon, PhD
Counselling Psychologist
• Dr Karelle Hylton, PhD, is a counselling psychologist. Email: karelle_hylton@yahoo.com. Teenagers and personal safety
Do you have a question for our counsellor?
@ Send questions and feedback to karelle_hylton@yahoo.com.