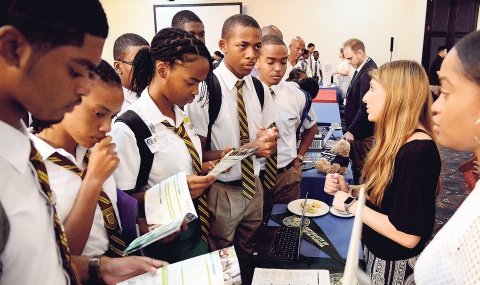 Alexis Setteducato (second right), Caribbean recruiter, USF, and Diandra Booth, USF alumnus, chat with students at the Education USA's College Fair 2018, held at The Jamaica Pegasus hotel in New Kingston recently.
Dear Counsellor:
I am a 17-year-old female and I am concerned that my parents and I are having different views on which university is the best choice. I have been trying to tell them that my friend, who is a student at one university, is very impressed with it and has suggested that I enroll there because it is one of the best universities in Jamaica. What makes one tertiary institution better than another?
– Z.R.
Dear Z.R.,
Exploration of tertiary institutions and the application process is a time of anxiety, joy, confusion, and pride. These are just a few of the emotions that both parents and children process at this time of the year. What makes one college better than another depends on several factors. These include:
• The course offerings – the programmes offered.
• Accreditation – are the programmes accredited?
• The length of study.
• The delivery of programme – online, face to face, both.
• The available resources on the campus – library, Internet access, laboratory facility.
• The tuition costs, including access to scholarships and payment plans available.
• The location of the campus – the distance from home, access to shopping, entertainment, food establishments.
• The alumni – the graduates and their current positions.
• The orientation of the institution – sexual (co-ed or single sex), religious or nonreligious.
• Security on campus.
• Boarding facilities – laundry, room size, occupancy (single or shared rooms).
• Student representation – active and vibrant, or non-existent.
• Size of the campus – some persons thrive better on small campuses that give a different feel than that of a large campus.
• History of student and administration relationships – cooperative or antagonistic.
• Sports and games, extra-curricular activities.
• Current student body – local, international.
• Tolerance for differences – is the environment friendly or polarized?
• Family tradition – family loyalty sometimes plays a deciding role in college choice.
Prospective college and university students are encouraged to participate in the college and university 'open day' activities in order that each individual gets that handson experience. Go to the respective institution's website and explore the virtual tours, and read the reviews by past and current students. Get your parents involved in this process as well. They will need the reassurance that you would have made an informed choice and their input will be valued. Make it a family adventure – create positive memories.
Remember, you will be at the university of choice for at least three or four years of your life. This place will become your home away from home, and your successful completion of the programme of choice will depend on your comfort in an environment conducive to your whole development – social, academic, physical and emotional development.
Happy exploration, and I hope the college of choice meets your needs!
• Dr Karelle Hytlon, PhD, is a counselling psychologist.
Email: karelle_hylton@yahoo.com