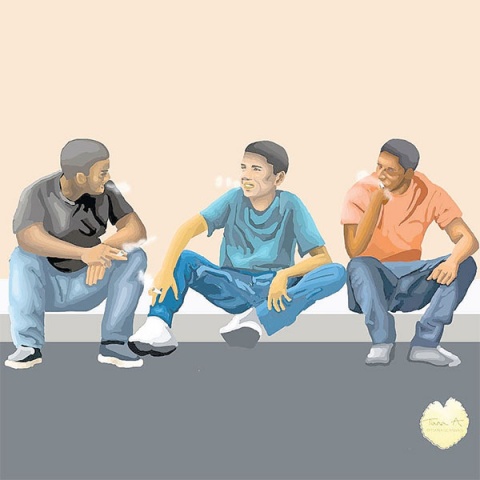 It was a dramatic October morning for stay-at-home mom Christine W. Broomwell*, who got a call from the police station while cooking for her family.
"I was in the kitchen getting the things together to put in the pot, when they [the police] say I must come to the station for my sons. Everything was happening so fast I had to gather myself," recollected Broomwell.
Her sons, who were on their way to a school fun day at about 3 p.m., decided to stop and lyme in their community when a police vehicle pulled up. Knowing that they were carrying knives in their knapsacks, they hid the bags behind a wall before the police got out of the car.
"At the time, our community was running red with a lot of thieves, so we have to arm ourselves. But the officer was very pressing, so him look over the wall and found the bags with the knives. We didn't even deny it because everything dun set a way already," stated the younger brother, Winston S. Jamiel*.
While being collared to the station in Westmoreland, which was a five-minute walk from where they were arrested, the 15-year-old Jamiel kept thinking about what he was going to tell his mother and how disappointed she was going to be. However, he had to wait as they sat for several hours on a station bench before they could make a phone call.
"It was really scary, because dem tell we seh if we can't make bail, they carrying us to the lock-up at Lucea," said a penitent Jamiel.
Not surprisingly, the first call he made was to his mother who, fortunately, answered her phone. As his mother recollected, it was an arduous task to get them out.
"After I gathered myself, I had to hurry and put on my clothes, then head to the station. They give me two forms to fill out and get them signed by a JP, so I had to rush to my church and find one before I could get them out."
THE HARSH REALITY OF JAIL TIME
While out on bail, Jamiel had to wait two and a half months before going to a court hearing, where he was asked a standard, procedural question about taking any substance.
"Mi fine out he was smoking ganja from 14, when him lips were getting darker. Mi and his father talk to him, but him just never stop," disclosed Broomwell.
Unfortunately for Jamiel, it was hard to see the effects smoking was having on him at such a young age. He explained that it started out as an innocuous habit.
"During dat time, tings tight at home with funds an all, lots of arguments and depression, so I start hanging out with my friends after school. At first I was just curious. I saw my friend with it, so I asked him for a draw. Den I was going by him every evening, just chilling and having fun."
Soon after, his grades started to fall, and by fifth form he was recommended to sit only one CSEC subject.
"If I had to do it over, I would be way more focused, especially from grade nine when you are selecting your subjects," lamented Jamiel.
AIMING TO DO SOMETHING BETTER WITH HIS LIFE
Now on a redemptive path, Jamiel has been doing his best to focus on his next move, which is to enrol in the culinary programme offered at the HEART Trust/NTA. "I have always liked cooking. Right now I can cook some simple tings, but I'm learning some stuff from my mother, like stew peas."
For now, Jamiel says he is doing his best to stay out of trouble by spending most of his days inside. His typical day now consists of him being on the Internet and helping his mother prepare dinner. As for his addiction, "I would be lying if I said some time di urge isn't there, but I jus' try to tink positive; plus I am expecting a call from HEART any time now, because I did the [entry] test already."
*Names changed to protect identity
– Illustrator: Tiana Anglin